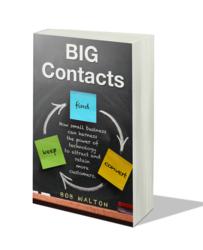 Duluth, GA (PRWEB) May 07, 2013
BigContacts, the leading provider of small business web based CRM software, provides advice to small businesses concerned with retaining their customer base.
It is no secret that the longer a company retains a customer, the more profitable that relationship becomes. Acquiring new customers can cost five times more than satisfying and retaining current customers. Small businesses thrive on the relationships they build with their client base; this is why it is imperative to keep those customers happy and returning time and time again.
The first thing for a small business to consider when discussing customer retention is - has the companies retention rate been evaluated. The average company loses 10% of its customer base each year. Anything that can be done to lower this percentage will greatly impact the bottom line for the business year in and year out.
Once the existing retention rate has been determined, businesses must have a plan to keep a greater percentage of their customers intact. The average happy customer will tell four or five others, while a dissatisfied customer will tell nine to twelve people about their experience. Bad news travels fast, having a plan to avoid this is imperative to retaining a solid customer base.
Customers leave businesses for many reasons; the biggest reason being that they are unhappy with the level of customer service they were provided. This is followed by dissatisfaction with the product or service, switching to a competitor and moving outside of the businesses range.
Once a plan is in place to attempt to retain as many customers as possible, there needs to be a technology solution behind that plan to ensure its success.
CRM software is a very effective tool for retaining customers. If implemented correctly, CRM software maximizes the lifetime value of the customers that a business currently has and those that will come on board in the future.
An important ingredient for maximizing the lifetime value of each client is in the processes executed at every customer touch point. CRM software can consolidate and organize all of this information that a company gathers on customers and prospects. Properly organizing the information will give the insights needed to effectively handle these relationships and nurture every customer from day one.
Bob Walton, founder and CEO of BigContacts, states, "Over the past 6 years, my company has had the opportunity to assist over 10,000 small businesses in implementing CRM software. This experience has helped us to gain an invaluable perspective on how small business can harness the power of CRM technology to attract and retain more customers."
Bob uses his 20 years of business experience to help small businesses better evaluate how they are managing the customer lifecycle today and shows them how they can leverage CRM technology to get a handle on the entire customer experience.
For more information about BigContacts please visit http://www.bigcontacts.com.
About BigContacts:
BigContacts is a software company that was founded in 2006 with a singular focus on delivering cost-effective and user-friendly CRM Software to help small businesses manage their prospects and customers.
BigContacts is now a leading web based CRM (Customer Relationship Management) software solution designed for small businesses that have outgrown basic solutions like Outlook, Excel or ACT but don't want the cost and complexity of CRM solutions like Salesforce.