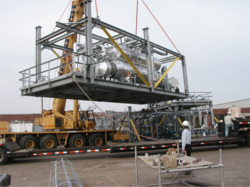 A three month average is cut from the project time and a 24% average savings is seen with the modular design approach.
St. Louis, MO (PRWEB) May 07, 2013
EPIC Modular Process has updated their Front-End Engineering method and modular skid design to reduce the cost of pilot plant scale-up, providing faster delivery of pilot plants. The collaborative Front-End Engineering (FEE) method thoroughly examines the full pilot plant requirements before providing a price quotation and detailed design of the system.
For pilot plant scale-up, the FEE process uses advanced modeling methods to determine the limitations of the pilot plant during scale up. EPIC's Engineering Team utilizes rich process system design experience and modeling to address scale up issues that may involve: reaction kinetics, chemical equilibrium, material properties, fluid dynamics, thermodynamics, equipment selection and agitation.
The physical characteristics of a system inadvertently affect the chemical reaction, creating different results at each iterative size. Using bench scale data and Aspen/HYSYS modeling to successfully scale-up technology and provide realistic system expectations with job quotes.
Design engineers must balance cost savings and equipment selection without compromising the end-goal of proving viability of final pilot plant scale-up. Equipment requirements and materials of construction are thoroughly examined during Front-End Engineering. The proper instrumentation and testing stations are determined, collaboratively with the client, to keep costs under control and prove the process technology.
Modular skid design maximizes speed of delivery while minimizing downtime with offsite parallel fabrication of pilot plants and onsite facilities preparation. FAT testing is completed before shipment and pilot plants are installed ready-to-operate. A three month average is cut from the project time and a 24% average savings is seen with the modular design approach.
ABOUT EPIC SYSTEMS: Founded in 1995, EPIC Systems, Inc. is a leading multi-discipline engineering and fabrication firm that provides project automation solutions for modular process plants and systems, packaging line integration, custom machine manufacturing and advanced machine vision system integration.
Utilizing a custom design-build approach, EPIC Systems specializes in the entire plant project. The company provides comprehensive strategy and execution for: concept development; design engineering; integration and automation for process, line and controls; plant and modular fabrication; construction management and installation; startup; commissioning and support.
EPIC Systems is located in St. Louis, MO USA. To learn more about EPIC, visit the website or contact them today for an engineering evaluation of your application.
###
Contact: Michael Riehn
314-845-0077
mrepic(at)epicsysinc(dot)com