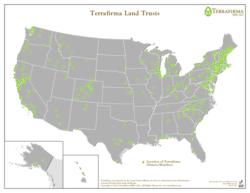 "As land values rise, land trusts will face increasing litigation from deep pocketed opponents who are willing and able to bleed them dry to develop conserved land," said Rand Wentworth, president of the Land Trust Alliance.
Burlington, VT (PRWEB) May 06, 2013
The Land Trust Alliance has launched a one-of-a kind liability insurance company called Terrafirma Risk Retention Group LLC to defend over 20,000 properties conserved by small community land trusts in Washington, DC and 46 states from expensive, frivolous lawsuits. (The only four states with no Terrafirma land trusts are Arkansas, Minnesota, North Dakota and Oklahoma.)
The most expensive land trust litigation to date cost more than $1.5 million, and others have cost over $250,000, far exceeding the reserves of most land trusts.
For example, the Nevada County Land Trust, and the owners of conserved land near Nevada City, California were sued by an adjacent landowner who attempted to build a road across protected land to gain access to his property. The trial included eight days of testimony by 23 witnesses over an 8-month period, 455 exhibits, and two site visits. The land trust had to conduct a special appeal campaign locally to raise part of the over $300,000 in defense costs (Garfinkel v Nevada County Land Trust, Trabucco, et al, Superior Court of the State of California, County of Nevada, Case No 71098, 8-21-2008). The land trust, now called the Bear Yuba Land Trust, protects the Bear River and Yuba River watersheds providing over half of California's water. It is one of 53 land trusts in California, which collectively protect three-quarters of a million acres of conserved land statewide, that have joined Terrafirma.
"As land values rise, land trusts will face increasing litigation from deep pocketed opponents who are willing and able to bleed them dry to develop conserved land. Up until now, it has been David vs. Goliath," said Rand Wentworth, president of the Land Trust Alliance and a former president of a commercial real estate development company. "Terrafirma enables land trusts to pool their resources to defend their conserved lands against wealthy developers who want to pave over paradise."
Land trusts protect a variety of vital natural resources, including clean air and water, wildlife habitat, farms, ranches, forests, gardens, historic battlefields, nature preserves, parks, shorelines, and trails. One Terrafirma participant, the American Chestnut Land Trust in Calvert County, Maryland, offers hiking trails and canoe trips on its beautiful 3,000-acre preserved area that protects the most pristine watershed on the western shore of the 200-mile long Chesapeake Bay. The Chesapeake Bay is the largest estuary in the United States and home to over 300 species of fish and numerous shellfish and crab species, including the Atlantic menhaden, Striped bass, American eel, Eastern oyster, and the Blue crab.
Nonprofit land trusts are likely to be the most important tool to conserve land in the 21st century. Congressional appropriators have withheld $16 billion in authorized funding over the past 46 years for the Land and Water Conservation Fund, a major funding source for federal and state acquisitions of land and conservation easements (development restricted land), often purchasing land acquired by land trusts. The LWCF is due to expire in 2015, unless Congress reauthorizes it.
Nearly 60 percent of land trusts are one person or all volunteer operations. The average size of the land trusts' conservation easements is 300 acres and the average value is $450,000. Each year, an estimated 2 million acres of America's farms, ranches, forests, wildlife habitat, and other open spaces are fragmented into smaller parcels or lost to development, according to the President's Annual Economic Report to Congress in March.
This conservation defense liability insurance coverage is not available from commercial or nonprofit insurance carriers for several reasons. The insurance pool is too small to generate enough income, these carriers don't understand the litigation risks facing land trusts, and they want to settle cases to keep their expenses low and profits high, rather than initiate and defend cases to ensure land is conserved in perpetuity.
Taking matters into their own hands, more than 420 land trusts joined with the Land Trust Alliance to create Terrafirma to protect more than 6 million acres of conserved land, 75 percent of the over 8 million acres conserved by land trusts that cannot afford to self-insure themselves individually, according to the 2010 National Land Trust Census.
"The IRS has stated that a land trust could lose its tax status or ability to accept further donations if it does not have sufficient resources to monitor or defend conservation easements," said Frederic C. Rich, a partner of Sullivan & Cromwell LLP, an international law firm based in New York that provided nearly $1 million of pro bono services to create a solid legal foundation for Terrafirma. "With insurance from Terrafirma, land trusts can now assure their communities, donors, the IRS, other regulators and legislators that they have the financial capacity to defend their conserved lands in perpetuity."
Terrafirma's business is limited to insuring its land trust owner members against the costs of litigation necessary to protect their conserved lands from threats such as trespassing, vandalism, and adverse claims for damages by developers and other parties. Terrafirma differs from other insurance in that it covers all legal-related fees for both enforcement and defense and includes mediation, negotiation and court fees.
"I am both proud and excited about the Alliance's success in creating Terrafirma," said Andrew Bowman, director of the Environment Program for Doris Duke Charitable Foundation, one of eight major environmental foundations that provided $4 million in capital funding to launch the service. "This innovative service enables community-based nonprofits to protect wildlife habitat and other conserved lands that represent billions of dollars of public and private investment."
The Terrafirma conservation defense insurance program goals include: 1) protecting the permanence of conserved land; 2) creating favorable case law and avoid unfavorable case law; and 3) encouraging practices to cut the risk of conservation violations and unnecessary litigation.
The basic policy includes: 1) first year premium of $60 per year per conservation easement or fee-owned land; 2) a maximum limit of $500,000 per claim and total claims limit of $500,000; and 3) a $5,000 deductible per claim regardless of policy limits.
"I am the sole staff person of a small land trust in Georgia," said Steffney Thompson, executive director of the Oconee River Land Trust, which protects nearly 4,400 acres in northeast Georgia, including working forests, wetlands, hardwood forests, riparian buffers, and agricultural lands. "The Terrafirma conservation defense liability insurance program is a very reasonable, balanced, targeted critical service that helps us protect our community's conservation lands."
About Land Trust Alliance
The Land Trust Alliance is a national conservation group that works on behalf of the nation's 1,700 land trusts to save the places people love by strengthening conservation nationwide. The Alliance works to increase the pace and quality of conservation by advocating favorable tax policies and training land trusts in best practices, and working to ensure the permanence of conservation in the face of continuing threats. Details at http://www.lta.org/policy
About Terrafirma Risk Retention Group LLC
Terrafirma was formed by the Land Trust Alliance to help land trusts defend their conserved lands from the liabilities of legal challenges by pooling and insuring their conservation defense liabilities and also provides information with respect to loss control and risk management. Details at http://www.terrafirma.org
###
Contact: Sean Crowley, 202-550-6524, seancrowley57(at)gmail.com or
Rob Aldrich, 202-431-8848, raldrich(at)lta.org