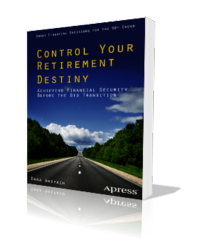 New York, NY (PRWEB) May 07, 2013
People in their fifties start to wonder: When should I retire? Once I do, when should I take Social Security? Do I need to buy an annuity to make sure I have enough money to last my whole life? Should I move everything into Treasury Bills and other "safe" investments? In short, what do I need to do now to ensure a comfortable retirement?
"Control Your Retirement Destiny: Achieving Financial Security Before the Big Transition," by nationally known retirement expert Dana Anspach, provides practical how-to knowledge on what is needed to get finances in order to prepare for a transition out of the workforce. While never easy, retirement investing from 20s through early 50s is straightforward. But from mid 50s and beyond, a different kind of plan is necessary to align investments, retirement accounts, taxes, Social Security, and pension decisions, all with a single objective: providing reliable, life-long income.
A transition into retirement can be scary. "Control Your Retirement Destiny" equips readers with the knowledge needed to avoid big mistakes while optimizing the flow of funds to support the retirement people always dreamed of. This book covers all the major topics in retirement planning investments, Social Security, annuities, taxes, healthcare, part-time work, and more. Anspach provides examples of how to coordinate retirement incomes to maximize benefits as an individual or with a spouse. Working with advisors can be confusing, so Anspach shows how to find the best one for those that are not comfortable planning their own finances.
"Control Your Retirement Destiny" is for those who are beginning to think about when and how they might transition out of regular, full-time work. It will enable a financial future right now to ensure a happy, secure retirement.
To learn more about Control Your Retirement Destiny, visit http://www.apress.com/9781430250227.
About Dana Anspach
Dana Anspach is a featured writer for About.com. (See http://www.moneyover55.about.com). She also serves as the Chair of the Practitioner Peer Review Committee for the Retirement Management Journal. Anspach has been practicing as a financial advisor since 1995, and in 2011 founded Sensible Money, LLC, a registered investment advisory firm with a developed specialty in the area of retirement income planning. She is a Certified Financial Planner, Retirement Management Analyst, a Kolbe Certified Consultant, and a member of NAPFA (National Association Of Personal Financial Advisors), FPA (Financial Planning Association), and RIIA (Retirement Income Industry Association).
About Apress Media
With more than 1,500 books in print and e-formats, Apress is the authoritative source for IT professionals, software developers, and business leaders all over the world. Apress provides high-quality, no-fluff content that helps serious technology professionals build a comprehensive pathway to career success. Since 2007, Apress has been part of Springer Science+Business Media, one of the world's leading scientific, technical, and medical publishing houses, enabling global distribution of Apress publications. For more information, please visit http://www.apress.com.