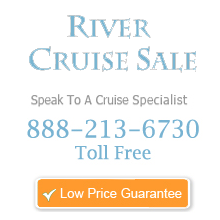 It's all about the itinerary
Tucson,Az (PRWEB) May 07, 2013
What is the secret behind the growth of river cruising? Peter Evans is the owner of Bon Voyage Travel, one of the fastest growing travel agencies in the U.S. In 2008 he successfully brought his retail business into the online agency world with seven cruise sale brand websites with a focus on ocean cruise lines. As a result sale revenues doubled and the sites helped Bon Voyage Travel become a top producer for many of the top cruise brands. Over the last few years Peter noticed growing demand for river cruises; reports state that the total number of reservations for river cruises has jumped nearly 25 percent when compared with the same period last year. To take advantage of this growing market and serve clients who have an interest in river cruising, Peter has entered the marketplace with RiverCruiseSale.com.
In order to know what the river cruise experience would hold for customers and get first-hand experience, RiverCruiseSale.com CEO Peter Evans decided to take a river cruise through France. Peter said "This is a cruise for someone who is itinerary driven and looking to relax. The river cruise was so relaxing and intimate. There is something special about leisurely cruising along with the landscape and villages being so close." The destinations Peter visited would not be easily accessed on a traditional ocean cruise. River cruising takes travelers directly to cities and unique villages, with shorter, scenic cruise trips without long days at sea to get to each port. River cruise ships are small, and access locals that large cruise liners can't get to. His cruise stopped at Paris, Vernon, Rouen, Les Andelys, Conflans and back to Paris. River cruising meant several overnights in Rouen and Paris, with more time to spend in each since travel on the river is so quick. When describing the type of traveler that is making this style of cruising such a success, Peter notes that "it's all about the itinerary."
RiverCruiseSale.com has picked the best river cruise lines to partner with, such as Viking River Cruises, Scenic Tours, AmaWaterways, Uniworld and Tauck. RiverCruiseSale.com has formed close relationships with these preferred partners. These river cruise lines come to visit the RiverCruiseSale.com offices and provided great support in the form of special training, exclusive offers and special valued partner benefits. Each partner provides unique benefits and itineraries that highlight the best river cruise values which can be viewed by clicking here.