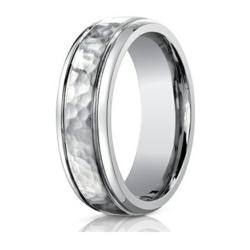 Just in time for graduations, Father's Day and summer weddings, JustMensRings.com is poised to launch its annual Summer Loving Sale, featuring discounts on over 600 styles of men's rings, wedding bands and jewelry.
Jensen Beach, FL (PRWEB) May 08, 2013
Summer saving start early this year, as online jewelry store JustMensRings.com (JMR) is set to commence its annual Summer Loving Sale in mid-May, featuring deep discounts on over 600 styles of men's rings, wedding bands and jewelry items. The Summer Loving Sale will be ideal for those looking to buy gifts for dads and grads, as well as couples making last minute purchases for their summer weddings.
While JustMensRings considers low prices and a dedication to customer service to be everyday values, the additional discounts in the Summer Loving Sale section will give shoppers the opportunity to save up to 75 percent off retail on their purchases. Early summer is generally a time for gift giving – whether it's for graduations, Father's Day or the onslaught of summer weddings. With a range of price points suitable for virtually any budget, the Summer Loving Sale will provide an ideal opportunity for shoppers to buy multiple gifts without straining their bank accounts. As an added benefit, all items on the site will offer free shipping during this sales event.
Some of the newest and most popular products on the JustMensRings.com site will be found in this special seasonal section. Men's rings in affordable contemporary materials like titanium, tungsten, cobalt chrome, ceramic, stainless steel and Argentium silver will be joined by more upscale precious metal options like gold and palladium. JustMensRings carries the US-based designer brand Benchmark exclusively, and many Benchmark styles will be found in the Summer Loving Sale. Despite the company name, JustMensRings also carries a significant collection of men's jewelry, including men's bracelets, necklaces and pendants, all of which will be present in the Summer Loving Sale section.
"With so many events and celebrations taking place in early summer, customers can't wait until the 4th of July for a big sale," says JustMensRings.com's president and owner Roy Devine. "Whether they're buying a graduation gift or purchasing a wedding band, we want our customers to feel the love and enjoy the savings."
All discounted products in JustMensRings.com's Summer Loving Sale will be available on a first come first served basis, and cannot be guaranteed once sold out. In addition to the greatly reduced prices in the Summer Loving Sale section and the free shipping extended to all orders, JustMensRings offers a 30 day money back guarantee on all items, as well as a Lifetime Guarantee on all designer rings.
About JustMen'sRings.com
At internet-only retailer JustMensRings.com, customers have come to expect the best possible prices on an extraordinary selection of men's rings, as well as the highest standards of service, selection and quality. The proof is in the numbers: Just Men's Rings now offers the largest selection of men's fashion rings online, and is the only store in the United States that offers men's large size rings up to size 20. Just Men's Rings leads the competition with an unparalleled assortment of unique and alternative men's wedding rings in a range of traditional and contemporary materials including gold, platinum, palladium, titanium, tungsten, silver, stainless steel, cobalt chrome and Seranite (or ceramic). Despite the recent rise in gold prices, Just Men's Rings continues to keep item pricing low and affordable, and shoppers would be hard-pressed to find better deals elsewhere. Just Men's Rings is dedicated to providing its customers with a simple and secure online shopping experience, and offers a 30 day guarantee and free shipping on all orders over $99.
For more information on Just Men's Rings, please visit http://www.justmensrings.com/.
For further information, please contact:
Roy & Judy Devine, Owners
800-797-9773
roy(at)justmensrings(dot)com