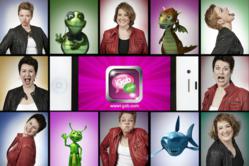 Everything else is so yesterday...
(PRWEB) May 07, 2013
GoGekko, a new woman owned app development company, launched its first iphone app, iGab messenger in iTunes a little over one month ago and would now like to reward users' creativity.
The iGab messenger app allows users to send 3D voice messages, using their own voice, via fun characters a.k.a. "Gabbers". The Gabbers even show emotion so iGab users have endless possibilities to create spunky unique messages.
iGab would like to see the results of the unusual messages that have been created. By using a Facebook contest the team wants to encourage users to post their funniest "Gabs". "We love Facebook and would like to have our users show off their great gabs," stated iGab co-founder Claudia Neumann.
The contest will run from May 10 through May 24, prizes will include free downloads in iTunes and the "Funniest Gab" will also be featured on the iGab YouTube channel, linked to the iGab webpage and of course featured in an upcoming press release.
Rules of the contest are simple. The user just needs to post "Gabs" on the iGab Facebook page. Facebook users will be doing the voting, so the "Gab" that gets the most likes and shares will win. The iGab team only requests that all Gabs be free of any content that could be considered offensive. "We know that the possibility to make fun Gabs is endless and can not wait to see what people have come up with," stated iGab co-founder Sabine Hutchison-Leidel.
About GoGekko GbR:
GoGekko GbR was established in 2012 in Hamburg. iGab is GoGekkos first iOS app, the app was created because GoGekko wanted a new fun way to send messages, without having to type messages. Emotion and using user own voices were both critical aspects to incorporate into the app. When sending text messages one is only able to show emotion by using smileys or other 2D images and often messages are sent with computer voices…GoGekko wanted more. http://www.i-gab.com