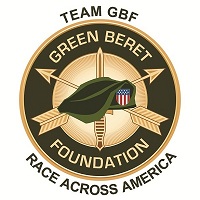 We are thankful for each of the members of the military, and the sacrifices they make for our freedom.
Mesa, AZ (PRWEB) May 09, 2013
Cruise America, the world's leader in RV rentals, is proud to become a sponsor of Team Green Beret, a Race Across America relay cycling team devoted to a very worthy cause. The team is comprised of military veterans that are committed to raising money to support the Green Beret Foundation (GBF). The GBF is a non-profit foundation that provides financial assistance, immediate-need supplies, assistance with caretaking, and educational scholarships to wounded or sick Army Special Forces members and their families.
Cruise America has agreed to donate one of their top-of-the-line motorhomes to serve as the rolling command post for Team GBF, as the cycling team competes in the 2013 Race Across America. This Cruise America motorhome will afford the four team members and their crew the opportunity to rest or sleep while they take turns peddling non-stop around the clock for a week, as they cross the nation on bicycles. The Team GBF cyclists are David Viens, Gino Elsea, Dave Johnson and Andrew Schaaf and Crew Chief John Roberts, all having served in the military. The team coach is Susan Hefler. More information about Team GBF can be found at http://www.teamgbf.com.
Cruise America representative, Michael Smalley said, "We are proud to be a sponsor of the Green Beret Foundation Racing Team. We are thankful for each of the members of the military, and the sacrifices they make for our freedom. Donating a motorhome is a small way for us to say 'thank you' to these warriors for their dedication to such a worthy cause."
The annual Race Across America Event starts in Oceanside, California on June 11-16, 2013 and ends in Annapolis, Maryland June 20-24. The route encompasses 3000 miles of peddling across 12 states. The route includes 170,000 feet of climbing. The racers have nine days to finish the race, so the teams must cover between 250-350 miles a day. Needless to say, the athletes that participate in this event must be at the pinnacle of physical condition.
Cruise America offers their inventory of fully equipped, self-contained class C rental RVs and used motorhomes for sale on their website, as well as an extensive list of their rental and sales locations. This enables the public to research, review and make their selection according to their needs. On the site there are informative videos, featuring the many accommodations and convenient amenities that come with each model.