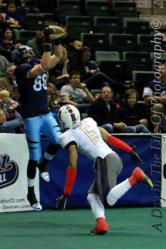 Having a quarterback like Willie (Copeland) throw me 18 touchdown strikes is great, but winning our conference is what I care about most.
Fort Collins, CO (PRWEB) May 07, 2013
At 6'6" and 224 lbs., Justin Helwege is a formidable weapon at the wide receiver position for the Colorado Ice. Helwege (88), one of 2012's early signings at wide receiver for the NFL's Seattle Seahawks and now a rookie standout for the Colorado Ice IFL team, is consistently posting league-leading touchdown reception numbers and dominating defenses in his first IFL season.
Over the first nine weeks of the IFL season, the rookie phenom has led the league in touchdown receptions virtually every week and now has 18 touchdown receptions going into the bye week. Not only is Helwege scoring touchdowns at a record-setting pace, he's taken nearly 50% of his catches into the opponent's end-zone for scores.
In addition to leading the IFL in touchdown receptions, the rookie has become quarterback Willie Copeland's favorite target leading all Colorado Ice receivers with 39 receptions overall. Leading the IFL and the Colorado Ice is an accomplishment made even more impressive since Helwege missed a week due to illness and has played in only eight games.
"First, I focus on route-running - being where I am supposed to be on the field - then making the catch. After that, it's all about securing the ball and powering in for six points," said Helwege. "Having a quarterback like Willie (Copeland) throw me touchdown strikes is great, but the most important thing is team wins. Being 6-3 and winning our Conference is what I care about most."
The Colorado Ice football team including Helwege will return to the Budweiser Event Center in Loveland, CO on Saturday, May 18 to face the Tri-Cities Fever. In the last meeting with the Fever (week 2), the rookie wide receiver had a huge impact with Copeland and Helwege connecting for two touchdowns and four receptions to hand the Fever their first loss of the season.
About Justin Helwege
Justin Helwege was a four year starter for Central Washington University, Wide Receiver of the Year in 2011 and unanimously voted first team all conference in the GNAC (Division II). Helwege graduated with a degree in Law and Criminal Justice. For more information on Justin Helwege including daily updates, photos and videos, please connect to his Facebook fan page or follow him on twitter. For film and/or participation in community relations activities, please contact Aaron Friemark (a.friemark[at]thecoloradoice[dot]com) or call the Colorado Ice offices at (970) 472-0128.
Media Contact:
Doug Wheeler
Publicist
Cognoscente Communications
425.381.0600
dougawheeler(at)gmail(dot)com
All trademarks are the property of their respective owners.
Copyright 2013