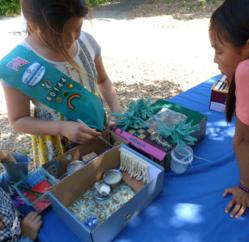 These young architects were able to incorporate "green" features into their homes---and then explain exactly how those features worked. I was inspired! ---Kevin Carley, City of Palo Alto Utilities
Palo Alto, CA (PRWEB) May 06, 2013
Anyone who attended last Thursday's Open House and Tour of the City Utilities EcoHome, saw clearly that the future of the green building industry is in good hands! That's because on display were beautiful and clever model "EcoHomes" designed and built by local Girl Scouts.
The girls earned Science badges with this project to build model homes which would could pass a "green certification" review. In preparation for their project, the Scouts came to visit the City's Eco-Home earlier in April to learn more about the latest energy and water-efficient design and landscape features available.
Then these girls went back and finished their model homes, incorporating what they'd learned. Several of the girls brought their finished EcoHomes back to yesterday's Open House event to display them and point out the environmentally-correct features.
The City's EcoHome, sponsored the Utilities Department, is located next to the Lucie Stern Community Center at 1300 Middlefield Road in Palo Alto. This demonstration building has features exhibiting some of the latest in environmentally-correct technology, with a focus on energy and water efficiency. Features include blue jeans insulation, recycled glass countertops, clover-leaf solar panels and rainwater collections barrels. Signage and literature guide visitors through the experience and help them see practical ways to apply the concepts in their own homes.
The next general public EcoHome Open House will be on Thursday June 6th but PA Utilities staffer Kevin Carley is delighted to conduct special tours for groups at other times. He can tailor the tour to fit with any group's age and interest, even bringing in speakers from other fields to enhance the experience. Visit the City Utilities website for more EcoHome details and contact information.