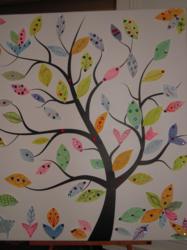 It was important for us to find a way to celebrate our thirtieth year, while giving back to those less fortunate," observed AJO President, Andy O'Connor.
Parsippany, NJ (PRWEB) May 08, 2013
To celebrate thirty years in business, clients, colleagues and family members of HR Consulting firm, A.J. O'Connor Associates (AJO) attended a client appreciation dinner last month. To mark the celebration and recognize AJO's commitment to giving back to its communities in this milestone year, AJO partnered with Caring Capital once again. Dinner guests had fun participating in two activities under the professional guidance of teaching artists from Caring Capital.
Large fleece drawstring pouches were decorated and filled with personal products contributed by a major consumer products client of AJO. These were donated to the People's Pantry, which continues to support the needs of 1,500 families in the Toms River area who remain in shelters or the homes of friends and family and still struggle from the impact of Hurricane Sandy.
In addition, guests embellished leaves for a large tree collage. The "Tree of Life" will adorn the walls at Family Service of Morris County (FSMC), where AJO's President, Andrew O'Connor, serves as a member of the Board of Managers. Coincidentally, FSMC is also celebrating a milestone year in 2013.
"It was important for us to find a way to celebrate our thirtieth year, while giving back to those less fortunate," observed AJO President, Andy O'Connor. "We heard that People's Pantry needed personal care products and we were very grateful to one of our clients for their immediate response to our request for help. We couldn't have done this without their support."
"We were delighted to be part of this celebration, building on our relationship with Andy and his team and demonstrating how easy it is to help neighbors facing tough times," added Susie Schub, President of Caring Capital.
Pat Donahue, Executive Director of the People's Pantry commented, "We are so grateful to A.J. O'Connor Associates for making this happen. Caring Capital's Dream Pouches are not only lovely, they are filled with many items that our families desperately need, like skin cream and first aid kits. Their generous donation even included some do-it-yourself pouch kits to decorate. These will be ideal for the 8 to 12-year-olds who will be participating in our upcoming Art Therapy Program."
Patrice Picard, CEO at Family Service of Morris County, noted, "The tree collage is such a beautiful gift, and brings real warmth to our building and smiles to the faces of those who stop by to study it, many of whom are facing challenges. It's also a wonderful symbol of community partnership and we are grateful to AJO for this donation."
About AJO: Founded in 1983, A.J. O'Connor Associates partners with individuals, teams and organizations to reach their goals. From the career coaching needs of individuals and organizations, to executive coaching, to team and leadership development programs, AJO offers uncompromising personalized service and customized solutions. Headquartered in New Jersey, AJO is a second-generation family owned business with a strong client base throughout the Northeastern United States. AJO's team of knowledgeable and experienced Executive Coaches and Senior Career Consultants offer expanded national and international coverage. 2013 marks the celebration of 30 years in business. For more photos, please visit AJO's Facebook page and check out the Tree of Life and Dream Pouches.
About Caring Capital: Caring Capital links the energy of corporate volunteers with the creativity of professional artists to make gifts for neighbors in need. Since 2008, employees at dozens of companies nationwide have made gifts for more than 10,000 children, families, seniors and service members. For more information about Caring Capital, go to http://www.caringcap.com
The People's Pantry was created by Toms River Regional Schools to distribute donations received at shelters for Hurricane Sandy storm victims. Family Service of Morris County (FSMC) is a private, non-profit organization serving Morris County for 200 years with a mission of strengthening the community by empowering individuals and families to meet and overcome life's challenges.