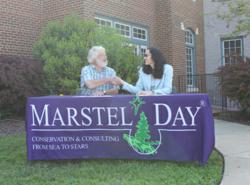 We seek to diminish or eliminate the need to utilize the I-95 driving corridor for business purposes -- other than for special circumstances.
Fredericksburg, VA (PRWEB) May 07, 2013
Marstel-Day President and CEO Rebecca R. Rubin stated that Marstel-Day will relocate the company's Principal Office in Fredericksburg, VA to a new Marstel-Day "campus" across town, consisting of two buildings immediately adjacent to the Fredericksburg train station. The new buildings are located at 513 Prince Edward Street and 417 Wolfe Street, respectively. Both buildings are located in a qualifying HUBZone (Historically Underutilized Business Zone) census tract. The move will begin in mid-June, 2013.
In addition to increasing dramatically the company's square footage (to 14,960 from the current 8,870) and providing much-need room for expansion, these new facilities will also -- and most importantly -- provide the company with proximity to rail. Rubin stated: "We seek to diminish or eliminate the need to utilize the I-95 driving corridor for business purposes -- other than for special circumstances."
This rail-friendly approach is one that Marstel-Day believes to be essential to the company's future, especially as (a) expansion of the I-95 corridor will inevitably lure more cars onto the highway, pushing urban sprawl further south to Fredericksburg and making highway driving even worse than it is at present; and (b) the tree canopy and ecosystem that previously formed a significant expanse of median buffer on the I-95 corridor has been destroyed to allow the highway to expand. This elimination of the tree canopy is not an act in which Marstel-Day wants to play a supporting role.
In addition to their rail-friendly orientation, the new offices in Fredericksburg will also have several other environmentally desirable attributes. For instance, they will be refurbished using eco-friendly carpeting and zero VOC paint. Bike racks will be provided. Plants and trees will be added to certain areas of the lawn to create a garden spot.
In addition to these environmentally friendly attributes, the new offices also boast an impressive IT infrastructure that will meaningfully expand the company's current capacity.
The buildings are owned and managed by Woodmere Associates, a partnership which includes the managing partner, Wesley St. Clair Robinson -- the grandson and namesake of St. Clair Brooks, for whom the spectacular Fredericksburg area park is named. "Woodmere Associates looks forward to having Marstel Day join us as a tenant of the Lafayette Technology Center," Mr. Robinson stated. " It is not often you get a company whose sole mission is to help create a better environment for the future of our planet. We look forward to a long and fruitful collaboration with Marstel Day."
Marstel-Day is a growing environmental, land use, and conservation consulting company headquartered in Fredericksburg, VA, with over 120 staff and seven offices located in Virginia, California, Colorado, Mississippi, and Texas.