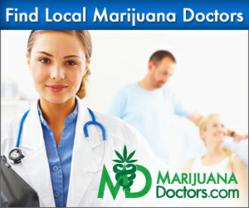 "From the very beginning, our mission has been to supply medical marijuana patients everywhere with a confidential and discreet certification location. Cannabis Evaluations represents just that and fits the MD mold for canna-physicians." -John Nicolazzo
(PRWEB) May 07, 2013
The start of this week promotes a very special representation of one of the medical marijuana industry's most undeniable powerhouse companies. MarijuanaDoctors.com, a primary subsidiary of The Medical Cannabis Network, is a company that supplies extensive services for medical marijuana patients located in any of the nineteen legal medical marijuana states. Today, the company has announced the addition of Cannabis Evaluations to their increasingly boundless roster of award-winning licensed and board-certified canna-physicians.
Located in the charming city of Pasadena, California, Cannabis Evaluations provides compassionate alternative medical practices to both inquiring and current Proposition 215 medical marijuana patients. Widely acclaimed as the City of Roses, Pasadena boasts a lovely Southern California climate that people suffering through winter blizzards and cold, rainy weather absolutely envy. The city is best known for serving as the primary host of the annual Tournament of Roses Parade and Rose Bowl college football game, aside from hosting cultural amenities, housing fine restaurants and paying homage to top-notch retailers. The Tournament of Roses is viewed in person by hundreds of thousands of individuals, and on television and on the Internet by millions around the world. By featuring a never-ending amount of beauty, entertainment and exceptional alternative healthcare services, Pasadena lives up to hype surrounding the title of being the Crown of the Valley.
Cannabis Evaluations operates as a medical marijuana certification center that features comprehensive alternative healthcare practices for patients in an around the Pasadena region. Recognized year-after-year as the best in alternative medicine, Cannabis Evaluations has established a brand that goes far beyond the boundaries of Pasadena and is deep-rooted within the foundation of the state's medical marijuana industry. This location features a legally-licensed and board-certified physician who has provided compassionate relief to thousands of medical marijuana patients in the Pasadena region. This location offers the most unique services in medical marijuana evaluations, medical marijuana recommendations and medical marijuana certifications. Aside from featuring specialized services in alternative treatment options, Cannabis Evaluations offers a substantial amount of support and assistance within any necessary steps towards obtaining a California medical marijuana card.
Cannabis Evaluations has not only cemented a finite reputation of being a leader in alternative healthcare, but this location has also strengthened its appeal towards patients in surrounding towns, cities and counties. Although Cannabis Evaluations operates through a primary location on N. Mentor Avenue in Pasadena, that does not mean that the responsive and resourceful patient support services supplied by this location are only limited to that specific area. Cannabis Evaluations reaches out to patients in the surrounding communities of San Marino, Altadena, Sierra Madre, Rosemead, Arcadia, Glendale, San Gabriel and Monterey Park.
It is evident that MarijuanaDoctors has not lessened any efforts of marketing, advertising and overall compassionate patient services. The company has spread a distinguished brand throughout the entire East Coast, Pacific Northwest and now throughout the West Coast, all while revitalizing an industry far beyond comprehension. The valiant effort put forth by these compassionate individuals has never strayed from the initial mission of accommodating patients who need it most.