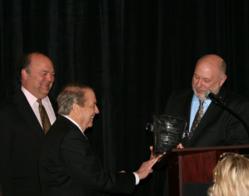 I'm still overwhelmed.
Greensburg, PA (PRWEB) May 07, 2013
A lifetime achievement award is just that: it signifies an entire life dedicated to a career, and in Bud Smail's case, a lifelong love affair with the automotive industry. On April 12th, Clarence B. (Bud) Smail was honored at the Greensburg Country Club for his many years of service.
The event was hosted by the Pennsylvania Automotive Association and also the Greater Pittsburgh Automobile Dealers Association. Bud is a member of both organizations, and is currently the Western Pennsylvania Director for the National Automotive Dealer Association. For numerous years, he has shared his knowledge, experience and insight by serving on countless committees, including the Westmoreland Cultural Trust, Westmoreland County Community College, University of Pittsburgh at Greensburg, The Heart Association of Westmoreland Country, and the East Hempfield Lion's Club.
"I'm still overwhelmed," said Bud, after the tribute Friday night. Many of Smail's family, including his wife Ellen, his brothers Jim and Bill, sons Mark and Jeff, daughter Kathy, friends, employees and business associates attended and celebrated his lifetime achievements.