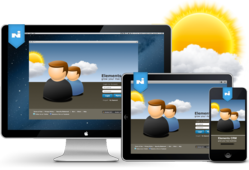 Grand Forks, North Dakota (PRWEB) May 07, 2013
Ntractive, the makers of Elements CRM, recently completed their second set of Apple Store Tours for 2013. This tour took them to Chicago and surrounding areas. Elements CRM is a cloud-based Mac Customer Relationship Management (Mac CRM) app for Business and Enterprise.
The purpose of Ntractive's Apple Store Tour was to introduce the Apple Stores to its cloud-based Mac CRM app, Elements CRM. As a Mac-only product, Elements CRM is the first of its kind to provide a cloud-based CRM designed specifically for the Mac and iOS platform. Elements CRM provides a mac-centric, user-friendly interface for Apple business customers all over the world. Additional Apple Store Tours are planned for Ntractive this year in other areas of the United States including Austin, Miami and New York as well as international tours to Hong Kong, China and Tokyo, Japan. To learn more about Ntractive and its Mac CRM products, visit: http://www.ntractive.com/mac-crm/en/products/
About Ntractive
Ntractive is the Mac Customer Relationship Management (Mac CRM) company that develops Elements CRM. Ntractive is changing the way companies collaborate, work and communicate on the Mac and iOS Devices. The company's Elements Platform, which is part desktop and part cloud, is powered by Webkit. Webkit is the open source browser engine that is used by Safari, the iPad and iPhone and many other applications. To learn more about Ntractive, go to http://www.ntractive.com
© 2006-2013 Ntractive, the Ntractive logo, Elements CRM, and the Elements CRM logo are trademarks of Ntractive, LLC. Other company and product names may be trademarks of their respective owners.