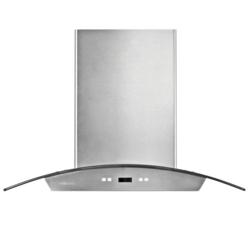 Online appliance retailer, Goedeker's now proudly sells Cavaliere Range Hoods.
Ballwin, MO (PRWEB) May 08, 2013
Online appliance retailer, Goedeker's now proudly sells Cavaliere Range Hoods.
Finely-crafted Cavaliere Range Hoods are extremely functional and provide a striking look that will beautify any kitchen.
"It is a privilege to now be able to sell Cavaliere range hoods," says Steve Goedeker, CEO of Goedeker's. "These fantastic range hoods are sure to please our customers."
To find Cavaliere Range Hoods at Goedeker's, visit Goedeker's cooking appliances webpage.
About Goedeker's
Goedeker's is a leading online retailer of appliances, mattresses, furniture, and plumbing supplies. Ever since 1951, Goedeker's has practiced excellent in customer service. Now, Goedeker's brings that same hometown service to the entire continental United States via the Internet. Explore appliance package deals, discount appliances or other fine products Goedeker's offers at Goedekers.com.
About Cavaliere Range Hoods
Cavaliere adheres to its key business principles concentrating on innovative products, devotion to customer service and overall professionalism.
We are a specialist in complete stainless steel range hood collection with superior components incorporating the latest technologies making us a leader in the industry. Cavaliere focuses on the design and development of every product we produce while utilizing our own special understanding of the kitchen environment, ergonomics, aesthetics and integration within your home or workplace.
Meanwhile with its technological strengths and marketing know-how, Cavaliere leads the range hoods industry meeting the needs and demands of the largest domestic market in the world while becoming a modern business competitor in the international marketplace through high quality products that feature refined workmanship.