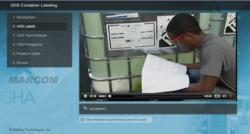 Novi, Michigan (PRWEB) May 06, 2013
In collaboration with the announcement of the third generation Video On Demand (VOD) platform, Mastery Technologies announces ten new course titles for the new VOD format. This format has been revamped so learners can take training courses on any device, including all mobile devices. These new titles appeal to a multitude of organizations by covering different workplace training topics.
Mastery proudly shares these new course titles:

The Cuban Missile Crisis: A Case Study in Decision Making and its Consequences
Chilean Mine Rescue: The Unstoppable Team
The Five Secrets of Communication: Business Edition
Microsoft Office 2010 and Windows 7: What's New in Windows 7
Microsoft Office 2010 and Windows 7: What's New in Access 2010?
Illicit Discharge Detection and Elimination – A Grate Concern
Hazard Communication: Introduction to GHS (The Globally Harmonized System)
Hazard Communication: GHS Safety Data Sheets in Laboratories
Hazard Communication: GHS Container Labeling
Hazard Communication: GHS Safety Data Sheets
Mobile learning provides employees the power to train at their convenience, and alleviate the stressors of being limited to the accessibility of a work computer. Mastery's Video On Demand format meets the demands of the variety of devices customers use by playing on tablets, PCs, Macs, and smart phones, and virtually all operating systems and browsers. In the coming months Mastery Technologies will continue releasing new VOD courses, as well as updating previously released Video On Demand titles.
Mastery's VOD courses contain the entire instructional presentation of a training course. All of Mastery's VOD courses include a topical index, displayed on the side of the video. Most VOD courses end with a quiz, including feedback on question answers. Additional resources such as downloadable workbooks and job aids may be included.
About Mastery Technologies Inc.
Mastery Technologies established the e-learning industry's first Training Content Network. Mastery partners with leading video content providers to co-produce the largest workplace e-learning library available. Mastery goes beyond connecting customers with content, by pro-actively supporting both customers and content partners. In this way Mastery fulfills its mission of helping build more successful, effective and amazing organizations.