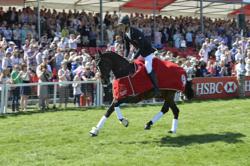 (PRWEB UK) 6 May 2013
A new star was born when New Zealander Jock Paget triumphed in an extraordinary climax to the Mitsubishi Motors Badminton Horse Trials (GBR), fourth leg of the HSBC FEI Classics™.
Paget, who is the first Badminton debutant to win since fellow Kiwi Mark Todd in 1980, had been at great pains to tell people that he had so far never jumped clear in the finale of a CCI4*. But this time, he and Frances Stead's Clifton Promise were quietly flawless, as indeed they had been throughout the entire competition in which the spotlight had been focussed on the tussle between Jung, Nicholson and Fox-Pitt.
In an almost unbelievable scenario, the usually faultless Michael Jung (GER) and La Biosthetique Sam, leaders after first two phases, hit the very last rail of the competition and dropped to second place.
The Rolex Grand Slam challenge evaporated in a split-second when William Fox-Pitt (GBR) and Parklane Hawk hit the last part of the treble at fence 7 to drop from third to fifth place.
Andrew Nicholson (NZL) had already jumped clear on Nereo to rise one place to third, but when Paget produced his foot-perfect round, Nicholson had to accept that the Grand Slam quest was over for him too.
Nicholson, who has the considerable consolation of extending his lead in the HSBC FEI Classics™, admitted that the dollar signs flashed past his eyes when Fox-Pitt hit a fence. "I certainly saw a lot of money for a moment," he laughed.
He has now completed Badminton 33 times – more than any other rider – but it was only his second time in the top three. "But I have thoroughly enjoyed the whole weekend," he said. "It's been very exciting, which is great for the sport, and great for New Zealand where Eventing has even been getting ahead of the rugby in the news."
Ironically, Jung, who won his Olympic gold medal thanks to a last-fence error by Sara Algotsson-Ostholt (SWE) at Greenwich Park last summer, has been training Paget during the winter and he was amused by the suggestion that he might have done too good a job. "I'll be training with Jock now," he joked.
The German, a popular new face at Badminton, was sporting in defeat. "Sam was jumping with a lot of power and I thought I had a good line to the last, but perhaps I was going too fast," he said. "I am still very pleased with my second place and to be at my first Badminton."
Eight nations were represented in the top 12 in one of the most international line-ups seen at any CCI4*, and 65 of the 84 starters completed the competition. There were 20 clear Jumping rounds without time penalties.
Ten years ago, Paget, 29, had not even ridden at an international event. He was an apprentice bricklayer in Sydney, Australia, when he first started riding. "I knew when I came to Badminton that I had two great horses and that I could win, but didn't actually think I was going to," said the modest Paget, who was also 14th on Clifton Lush. "Until now, I'd made a few little mistakes at CCI4* level but I kept knocking at the door. When I was a teenager, I watched Badminton on video, but the idea of winning it was certainly a distant dream." The dream has now become a reality!
HSBC Training Bursary
Sarah Ennis (IRL), who finished 38th on Sugar Brown Babe and won the $1,000 HSBC Training Bursary for the most successful first-time CCI4* completion, has been competing internationally for 20 years but had never been to Badminton before.
In 2012, she was second at Tattersalls CCI3* and was longlisted for the Irish team for the London Olympic Games. She also won the autumn Ballindenisk CIC3* (IRL) on BLM Diamond Dulux and was third on Sugar Brown Babe.
Ennis, 38, lives in Dunboyne, Co Meath, and runs Stellor Sport Horses. She is married and has a three-year-old son.
Sugar Brown Babe, an Irish Sport Horse, is an 11-year-old mare by Porsch, owned and bred by Miriam Murphy.
About the winner
Jonathan Paget (NZL) – known in the sport as Jock – has made a meteoric rise to stardom in Eventing. He only started riding at the age of 18 when he was an apprentice bricklayer in Sydney, Australia, his family having moved from New Zealand in 1986. He started training with Kevin McNab (AUS) in Queensland and progressed from never having jumped a fence to competing at CCI3* level in two years.
After the 2007 equine influenza outbreak in Sydney, Paget returned to New Zealand and started riding Frances Stead's Clifton horses. His first CCI4* was Kentucky in 2010 where he was finished seventh and was subsequently selected for the Kiwi squad for the Alltech FEI World Equestrian Games™ in 2010, where he again finished seventh individually on Clifton Promise.
Paget has been based in Dunsfold, in the south of England, working closely with senior New Zealand riders Mark Todd and Andrew Nicholson, since February 2011. He was part of the bronze medal New Zealand team at the London Olympic Games in 2012, finishing 10th on Clifton Promise.
His other CCI4* results include two fifth places at Burghley, in 2011 and 2012, on Clifton Lush, plus sixth at Kentucky and second at Pau last year on Clifton Promise. He is now second on the HSBC FEI Classics™ leaderboard.
Final results
1 Jonathan Paget/Clifton Promise (NZL) 39.7 + 0 + 0 = 39.7
2 Michael Jung/La Biosthetique Sam FBW (GER) 36.0 + 0 + 4 = 40.0
3 Andrew Nicholson/Nereo (NZL) 40.2 + 0 + 0 = 40.2
4 Sandra Auffarth/Opgun Louvo (GER) 41.3 + 1.2 + 0 = 42.5
5 William Fox-Pitt/Parklane Hawk (GBR) 40.0 + 0 + 4 = 44.0
6 Stefano Brecciaroli/Apollo VD Wendi Kurt Hoeve (ITA) 36.8 + 6 + 4 = 46.8
7 Vittoria Panizzon/Borough Pennyz (ITA) 47.3 + 0 + 0 = 47.3
8 Aoife Clark/Master Crusoe (IRL) 45.8 + 0.8 + 1 = 47.6
9 Astier Nicolas/Piaf de B'Neville (FRA) 49.3 + 0 + 0 = 49.3
10 Christopher Burton/Holstein Park Leilani (AUS) 43.0 + 2.4 + 4 = 49.4
11 Andrew Nicholson/Avebury (NZL) 45.0 + 0 + 6 = 51.0
12 Rebecca Howard/Riddle Master (CAN) 51.3 + 0.8 + 0 = 52.1
Full results on http://www.badminton-horse.co.uk
HSBC FEI Classics leaderboard (after 4 of 6 events)
1 Andrew Nicholson (NZL) 40 points
2 Jonathan Paget (NZL) 27
3 William Fox-Pitt (GBR) 26
4 Michael Jung (GER) 22
5 Craig Barrett (AUS) 15
5 Natalie Blundell (AUS) 12
7 Murray Lamperd (AUS) 10
8 Sandra Auffarth (GER) 8
9 Buck Davidson (USA) 8
10 Jessica Manson (AUS) 8
View full standings: http://www.fei.org/hsbc/hsbc-fei-classics
Download the HSBC FEI Classics™ 2012/2013 press kit: http://www.feipresskits.org
HSBC's Training Bursary
At the centre of HSBC's sponsorship is a commitment to the development of the sport of Eventing at every level. As part of its support of the HSBC FEI Classics™, HSBC has introduced a Training Bursary. This is a unique award which is presented to the highest placed rider never to have previously completed a 4-star level event. The winning rider receives a training voucher to the value of US $1,000 to be spent on sessions with a trainer of the athlete's choice approved by the FEI and National Federation.
HSBC FEI Classics™ 2012/2013 calendar
1 Les Etoiles de Pau CCI 4* (FRA) - 24-28 October 2012
2 Australian International 3 Day Event (AUS) - 22-25 November 2012
3 Rolex Kentucky Three-Day Event (USA) - 25-28 April 2013
4 Mitsubishi Motors Badminton Horse Trials (GBR) - 3-6 May 2013
5 Luhmühlen CCI 4* presented by DHL PAKET (GER) - 13-16 June 2013
6 Land Rover Burghley Horse Trials (GBR) - 5-8 September 2013
Notes to editors
HSBC, the platinum partner of the FEI and global sponsor of Eventing, has supported the HSBC FEI Classics™ series, which unites the top end of the international Eventing circuit, since 2008.
In our HSBC FEI Hub, you can access the HSBC FEI Classics™ 2012/2013 series standings, HSBC Rankings and all news relating to the current and past series.
Prize money
The HSBC FEI Classics™ prize fund is the largest on offer in the sport of Eventing on an annual basis. At the end of the HSBC FEI Classics™ 2012/2013 season, the five riders with the highest number of points collected across the six HSBC FEI Classics™ events will share a total prize fund of US$333,000 split as follows: 1st - US$150,000 (Series Champion); 2nd - US$75,000; 3rd - US$50,000; 4th - US$33,000; 5th - US$25,000.
HSBC Rankings
The rider at the top of the HSBC Rankings at the end of the 2013 Eventing season will receive a US $50,000 bonus. The winning rider will be announced in December 2013.
Join the FEI on Facebook & twitter
Our signature twitter hashtags for this series are #HSBC and #Eventing. We encourage you to use them, and if you have space: #HSBC FEI Classics™ #Eventing
Mitsubishi Badminton Horse Trials Media Contact
Julian Seaman
j.seaman2(at)sky(dot)com
+44 7831 515736
FEI Media Contacts
Grania Willis
Director Press Relations
grania.willis(at)fei(dot)org
+41 78 750 61 42
Ruth Grundy
Manager Press Relations
ruth.grundy(at)fei(dot)org
+41 78 750 61 45