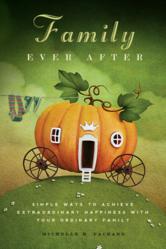 Family Ever After is a must-read for every happily married Cinderella who wonders why she's still holding the broom --Rachelle J. Christensen, award-winning author of Wrong Number and Caller ID
Sanger, CA (PRWEB) May 22, 2013
Women frustrated with their marriage and family life will find the help they need to achieve greater happiness and success in a new book about how to have a happy family, Family Ever After: Simple Ways to Achieve Extraordinary Happiness with Your Ordinary Family (Familius, April 2013), by stay-at-home "everymom" and family leader Michelle H. Packard.
In Family Ever After, Packard provides a practical, poignant, funny and moving exploration of the simple ways women can find greater happiness and satisfaction with their marriage and family. The book uses time-tested and well-researched principles to family life to help readers learn specific ways to improve their marriage and family, whether that family is ordinary or extraordinary.
According to Packard, "A storybook 'happily ever after' simply isn't the reality for most women. While the idea of happy ever after is distorted, you can, in fact, achieve your Family Ever After."
Family Ever After enlightens readers with the following key philosophies:

How happiness in marriage and family life requires a more educated, real-world perspective;
How proper prioritization and defining what's important in marriage and family is key to success;
Why conflict is part of an ordinary family experience and how to peacefully resolve it;
How to cultivate a sense of humor;
How to develop a thoughtful and sincere habit of complimenting each member of your family;
How to improve family relationships with extended family members; and
Learning how to love a family member in the way they understand and accept that love.
More than another how-to-have-a-perfect-family book, Family Ever After is an essential and inspiring resource that helps women gain the understanding and practical skills necessary to achieve extraordinary happiness and success for themselves and their families.
"Family Ever After" is a must-read for every happily married Cinderella who wonders why she's still holding the broom." –Rachelle J. Christensen, award-winning author of Wrong Number and Caller ID
"Michelle is open enough to have given readers an intimate look into her life and those close to her, allowing us to learn from both painful and sweet experiences. Her self-reflective style and meaningful insights, if applied, would clearly make a profound impact in the lives of readers." --Shawn Edgington Ph.D.
About the Author: Michelle Packard is a mother to her four very human and totally fabulous kids: Ella, Daniel, Julia and Jackson. She has been married ten years and is quite taken with her guy; date night is her favorite and she dreams of weekend getaways with her man. She loves creating beauty through floral design, hosting friends for parties, and quality family time. Michelle holds a bachelors degree in Home and Family Science from Brigham Young University. She has spent a great deal of time working with children and young adults and finds her greatest joy is helping to create happy families.
About the Publisher: Familius is a transmedia publisher who publishes for marriage, parenting, family fun, education, health and wellness, and children. The Familius mission is to help families be happy. We connect families with the books, e-books, videos, articles, and apps they need to build successful marriages and families. Let's Talk Family.
Book Details:
Title: Family Ever After: How to Achieve Extraordinary Happiness with Your Ordinary Family
Author: Michelle H. Packard
Publisher: Familius
Publication: April 2013, $14.95
Internet Marketing, pISBN 978-1-938301-38-4, eISBN 978-1-938301-39-1
6 x 9 trade paperback, Kindle, Nook, Kobo, IPad, ePub, 194 pages, bibliography
*Available from bookstores, online booksellers and http://www.familius.com
###