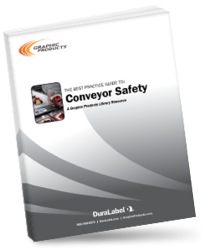 The Conveyor Safety Guide shows how production requirements and safety work together.
Portland, OR (PRWEB) May 07, 2013
From the darkest, grittiest coal mines of Kentucky to the pharmaceutical companies of New Jersey, conveyors help industries move materials and goods efficiently.
While conveyors save time and speed delivery, the quest for efficiency is often marred by human error. This causes serious injuries and fatalities that impact not only the lives of workers and their families, but also facility management and productivity. To encourage safe conveyor practices, labeling system manufacturer Graphic Products has released its Conveyor Safety Best Practices Guide.
Besides pinch points and other mechanical hazards, conveyors may cause or be surrounded by excessive noise, which may drown out cries for help when workers are in danger.
The Conveyor Safety Guide shows how production requirements and safety work together. For example, reducing idle time and computer shut-downs are top priorities in conveyor system operation. Achieving good conveyor safety contributes to these production goals. This guide presents practices that help to achieve these goals.
Here are some important guidelines covered in the Conveyor Safety Guide.
1. Keep the area around the conveyor drive free from debris.
2. Eliminate all sources of stored energy before opening the conveyor (use a lockout/tagout system).
3. Operate the conveyor according to manufacturer equipment instructions.
4. Do not operate conveyors unless covers and/or guards are in place.
5. Do not attempt maintenance or repairs until power has been locked out.
6. Do not place hands, feet, or other body parts in the conveyor.
The Conveyor Safety Guide covers the following topics:

Conveyor Equipment Manufacturers Association (CEMA) requirements for proper conveyor labeling
Safe conveyor maintenance
Lockout/tagout
Practices covered in the guide relate to the following kinds of conveyors:

Belt conveyors used in grain handling, quarrying and mining
Gravity conveyors, which move cartons, packages or pallets over short distances
Accumulation conveyors, which typically are used in conjunction with other conveyor types in a complete conveyor system
Ball transfers, used where product must change direction or at an intersection of two conveyors
Pallet conveyors, used to transport, stop and accumulate, reorient, or stage loads
Vibrating conveyors, which dry and cool products, move fertilizers, bark, and pesticides
Lightweight and portable skate wheel conveyors, used for moving tubs and totes
For mechanical contractors, distribution centers, and factories with more than 500 employees, Graphic Products addresses both energy efficiency and Kaizen and 5S lean manufacturing in a number of forms including free webinars, articles, and infographics.
Graphic Products manufactures and distributes DuraLabel thermal transfer printers, which are bundled with free software for creating OSHA-compliant safety signage, pipe markers, arc flash labels, wayfinding signs, and custom labels from .5 inches to nine inches wide. Users can also create their own signs and labels using Microsoft Word or OpenOffice.