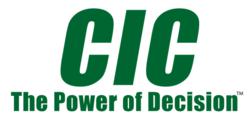 CIC's system now transfers all of this quality resident screening data right to the National Apartment Associations preferred lease form provider.
Los Angeles, CA (PRWEB) May 08, 2013
CIC, a nationwide resident screening leader with 27 years of industry experience, has integrated with Bluemoon Software in another improvement, offering property managers The Power of Decision.
Since 1986 CIC has been a leading provider of resident screening to the property management industry. With instant available options such as credit reports, nationwide criminal records, and nationwide eviction searches for property managers, CIC has been providing the most complete background check available to the apartment industry. The addition of the Bluemoon Software platform integrated through CIC's system now transfers all of this quality resident screening data right to the National Apartment Association's (NAA) preferred lease form provider.
For the integration to work smoothly clients need only have available their login credentials for Bluemoon, and CIC will set up the rest. Once a property manager concludes the screening portion for their applicant(s) they'll have the option to select up to four at once for a single lease. The system will instantly transfer to Bluemoon with the selected applicant information ready and then wait for any specific details and forms to be chosen. Arguably the best part of the process is it will cost nothing additional for clients to add this great option to their account.
CIC will NOT be charging members a setup fee to include Bluemoon integration with their resident screening. Likewise there are no additional fees from Bluemoon to have the applicant information automatically transferred to avoid redundancy during the process. This is an excellent addition for both systems, offering a convenient, time-saving option to property managers needing to fill vacancies fast.
Members of CIC, Bluemoon, NAA, or any NAA affiliates may use this new enhancement to their resident screening options to quickly assist in the daily rental process. For more information call CIC or visit CICReports.com/bluemoon.