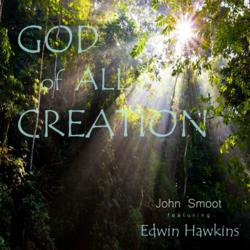 (PRWEB) May 08, 2013
Father of contemporary urban gospel music and four-time Grammy award winning artist, Edwin Hawkins (of "Oh Happy Day"), appears on a new single written and composed by upcoming songwriter/musician, John Smoot.
"God of All Creation" (released on January 01, 2013) is a Brazilian bossa nova-influenced melody with lyrics inspired by the book of Genesis chapter 1. The song is currently receiving increased radio play in Europe, Latin America, Asia and local radio in the U.S.
Gospel music is being received worldwide by global audiences in Japan, London, Germany, Switzerland, Argentina and Brazil. Cultures from around the world are able to identify with the song "God of All Creation" as it shares a common belief in the creator of life and introduces a new sound to the world of gospel music listeners. The gift of music is its ability to tie humanity together across cultures in song.
"God of All Creation" featuring Edwin Hawkins is available online on iTunes, Amazon and all other major digital music retailers.
ABOUT EDWIN HAWKINS:
In 1968, Edwin Hawkins penned the song, "Oh Happy Day" which became an international hit rising to the top of the U.S., U.K. and German music charts – earning four Grammy awards. His blending of Gospel with R&B and Soul created a unique sound for which Mr. Hawkins is known for as the founder of contemporary gospel music.
"Oh Happy Day" has been featured in film and covered by a variety of artists celebrated around the globe. During the span of his more than 30 years in music, Edwin Hawkins professional performances and televised appearances also include:

'United Nations, Together We Can' – a song for environmental awareness.
'Edwin Hawkins Live! – with The Oakland Symphony Orchestra'
Oprah Winfrey's 'Legends' broadcast
BET Stellar Awards
Bobby Jones Gospel
In 2007, Edwin Hawkins was inducted into the Christian Music Hall of Fame and recently honored at the BMI Gospel Music Trailblazers Awards in Nashville, TN in January of 2013.