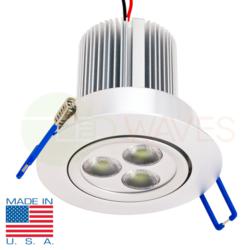 The redesign adds 5,000 hours of operating life to the Midtown™ LED recessed light.
(PRWEB) May 07, 2013
LED lighting supplier and manufacturer LED Waves has announced a performance-enhancing redesign to their top-selling downlight fixture made in the USA. The Midtown™ 2.1 LED Recessed Light features a slightly longer aluminum heat sink than the one found on its predecessor.
This redesign is purely mechanical, with no change to the light quality or wiring of the unit. The Midtown™ 2.1 LED Recessed Light is still a 9 Watt replacement for a 50 Watt halogen spotlight, built with three Cree XT-E chips. Like the 2.0 version, it is available in white, silver or matte black housing, and looks the same when installed in a ceiling. Both units come with a line voltage driver and may be dimmed using a dimmable LED power supply and a 12v LED driver.
The redesign of the Midtown™ follows the thermal management philosophy LED Waves applies to all their LED lights built exclusively in-house. Each product has a heat sink composed of slender, lightweight aluminum blades. By augmenting this part, LED Waves has increased surface area along which heat dissipates. This cooling method relieves stress on the electrical components, lengthening the life of the entire LED lamp.
Though the result is a slightly higher profile, the company's R&D team points out that the redesign adds approximately 5,000 hours to the operating life of the LED recessed light. Additionally, since the extrusion process for the new heat sink is slightly less expensive, online shoppers will notice that the per unit price of the Midtown™ 2.1 is one dollar less than that of the 2.0.
As past customers may have come to rely on the dimensions of the original Midtown™, LED Waves will continue to stock the 2.0 version alongside the 2.1 in order to meet demand for the near future. Since these products are assembled in the USA, both are eligible for the company's extended 5 year warranty. The same order options (housing color; color temperatures of warm, neutral, or cool white; beam spreads of 8, 15, 30 or 45 degrees) apply to both versions. Lighting specifiers are urged to call 1(800)986-0169 to reserve quantities for large projects.