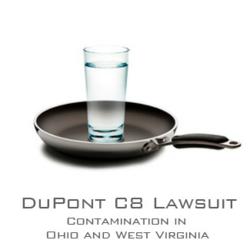 If you have worked or lived in any of the six water districts contaminated by DuPont C8 contact www.yourlegalhelp.com with any questions or concerns.
Columbus, OH (PRWEB) May 07, 2013
Wright & Schulte LLC, an experienced personal injury law firm representing the victims of toxic Dupont exposures, is investigating Dupont C8 lawsuits on behalf of Ohio and West Virginia residents allegedly exposed to C8, a toxic chemical that was discharged from DuPont's C8 Washington Works plant in Parkersburg, West Virginia. On April 8, 2013, the U.S. Judicial Panel on Multidistrict Litigation (JPML) ordered that all federal Dupont C8 lawsuits filed against DuPont for illnesses and injuries related to C8 exposure be transferred to U.S. District Court, Southern District of Ohio for pretrial proceedings. According to the Panel's Transfer Order, the 26 DuPont C8 lawsuits already pending in the litigation allege wrongful death or personal injury resulting from exposure to drinking water contaminated with C8. (In Re: E.I. Du Pont De Nemours and Company C-8 Personal Injury Llitigation, MDL No. 2433.)
Wright & Schulte LLC is offering free DuPont C8 lawsuit consultations to individuals who lived near the DuPont Washington Works Plant for at least one year prior to December 24, 2004, and suffered from any of the following illnesses:

Kidney cancer
Testicular cancer
Thyroid disease
Inflammatory bowel disease (ulcerative colitis)
Preeclampsia (high blood pressure during pregnancy)
High cholesterol
For more information on filing a DuPont C8 exposure lawsuit, or to arrange for a free legal consultation, please visit yourlegalhelp.com.
C8, also known as perfluorooctoanoic acid (PFOA), was used for decades at DuPont's Washington Works plant. According to a report from The Columbus Dispatch, high levels of the chemical have been found in water supplies near the plant along the Ohio River. In 2005, DuPont reached a settlement in a C8 class action lawsuit which, among other things, required it to establish a scientific panel to explore the health consequences of C8 exposure. Among other things, the settlement stipulated that those exposed to C8-contaminated water would preserve their right to file an individual personal injury lawsuit in the event that any links were found. In October 2012, the C8 Science Panel concluded that there is a probable link between the chemical and a number of disorders, including testicular and kidney cancers, pregnancy-induced hypertension (pre-eclampsia), thyroid disease, high cholesterol and inflammatory bowel disease.
(Leach v. E.I. Du Pont De Nemours & Co., No. 01-C-608 (W. Va. Cir. Ct.)
[dispatch.com/content/stories/local/2013/01/21/ohioans-lawsuits-blame-diseases-on-dupont.html]
As per the terms of the 2005 DuPont C8 class action lawsuit settlement, individuals who lived in one of six water districts in West Virginia or Ohio are eligible to file a personal injury Dupont C8 lawsuit if they suffered from any of the above-named disorders. The affected water districts include:
Little Hocking, Ohio
City of Belpre, Ohio
Tuppers Plains, Ohio
Village of Pomeroy, Ohio
Lubeck Public Service District, West Virginia
Mason County Public Service District, West Virginia
According to Wright & Schulte, even former residents who have since relocated are eligible to file a DuPont C8 lawsuit, so long as they lived in one of the affected water districts for at least one year prior to December 24, 2004.
About Wright & Schulte LLC And Filing A Dupont C8 Lawsuit
Wright & Schulte LLC, a leading personal injury firm, is dedicated to the belief that America's legal system should work for the people. Every day, the attorneys of Wright Schulte LLC stand up for the rights of people who have been injured or wronged, and fight tirelessly to ensure that even the world's most powerful corporations take responsibility for their actions. If you're looking for a law firm that will guarantee the aggressive and personal representation you deserve, please do not hesitate to contact Wright & Schulte LLC today. Free DuPont C8 lawsuit case evaluations are available through yourlegalhelp.com, or call 1-888-399-0795.
Contact:
Wright & Schulte LLC
812 East National Road
Vandalia, Ohio 45377
1-800-399-0795
http://www.yourlegalhelp.com