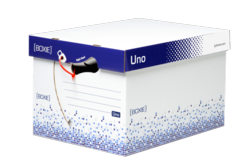 Our vision is to push the traditional limits for file storage used at work and at home. Until now, box organization hasn't changed in over 100 years. We are the first company to design and create boxes for the people who actively use them
Cincinnati (PRWEB) May 07, 2013
BOXIE, an ergonomic and lockable file box brand by Blegalbloss™, an ergonomics and design innovation company based in Cincinnati, Ohio, today announced that its BOXIE Uno 10 Cube-Pack is now available exclusively in Staples nationwide. An industry first, the Uno is made from the smallest footprint of material required to make a traditional file box, resulting in minimally produced waste. The Cube-Pack design also provides a new way of packing and storing 10 boxes, giving the office supply retailer more shelf space and consumers an easier way of transferring the product in and out of store locations.
Additional items from the company that are available in Staples stores include the Roo, eco-friendly, modular organizers that can be used in replacement of hanging and generic file folders, and ZipClips™, box-locking fasteners.
"We're very proud and excited to have this cutting edge product in America's largest retail office supply store," said Will Scott, Blegalbloss and BOXIE founder and CEO. "Our vision is to push the traditional limits for file storage used at work and at home. Until now, box organization hasn't changed in over 100 years. We are the first company to design and create boxes for the people who actively use them and offer improved functionality and solutions. This is another key step towards sharing innovative, high-quality organization and storage products with a much broader audience."
As with all BOXIE products, the Uno 10 Cube-Pack material is 65 percent recycled, 100 percent recyclable and SFI certified. The Uno's unique assembly process is quick, easy, intuitive and the patent pending Scottlock™ design is a revolutionary strength multiplier for the structure. The BOXIE line is not only lockable, but its security features meet stringent privacy standards, including those for healthcare and financial services, making the boxes the most HIPAA- and FACTA-compliant ones available on the market.
For more information about Blegalbloss and its brand lines, visit http://www.GoBoxie.com. Follow the company on Twitter and/or Like it on Facebook.
About Blegalbloss™ and BOXIE™
Blegalbloss (/blē•gəl•blôs/) is a privately-owned international company that has created the BOXIE system of ergonomic and lockable file boxes and other office products. Its product lines represents the first significant innovations in 100 years to the ubiquitous file boxes used by consumers and businesses. More than 45 patents are pending for Blegalbloss designs, including patents for security features, ergonomics and functionality. The company also makes a line of patent-pending products for the collection and removal of confidential documents for shredding or recycling. For more information, visit http://www.GoBoxie.com.