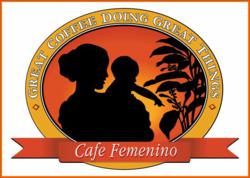 This really is feel good coffee in every way.
Toronto, Ontario, Canada (PRWEB) May 07, 2013
Imperial Coffee and Services Inc., the Toronto and Southern Ontario market leader in office coffee, vending and water services, today added to its product line Café Femenino, a fair trade and organic coffee produced by a women's cooperative in Guatemala.
The addition re-affirmed the company's long-standing commitment to providing incredible coffees and helping communities.
The new "feel good" coffee will be packaged in a revolutionary new omnidegradable paper wrap and will be available exclusively from Imperial Coffee and Services Inc.
The Café Femenino Coffee Project is a social program for women coffee producers in rural communities around the world.
More than 1,500 women in Bolivia, Colombia, Dominican Republic, Guatemala, Mexico and Peru are active in the project to achieve empowerment, build social and support networks, and earn incomes through the production and sale of the Café Femenino Coffee.
"This really is a feel good coffee in every way," said Imperial Coffee President Mark Steiner. He said there is a lot more to the coffee than its outstanding flavour, described as very clean and mildly sweet, with a pleasant fruitiness that "dances in the mouth, with a smooth, buttery body."
"The real story here is empowerment; the improved communities of the 126 women who produce the coffee at the Nahuala Coffee Cooperative in Guatemala," said Steiner.
The women work together to improve their crops, lead better lives, and care for the environment in which they live.
The Fair Trade program has made it possible for these impoverished families to diversify their income by adding new crops such as bananas and by bringing in bees to produce honey.
Café Femenino is designed to help the women take on more responsibility for the future of their villages as they are often the glue that holds the social fabric together in these communities. By putting the economic means in their own hands, the women are contributing to the welfare of the whole community and building their own self-esteem.
The Nahuala cooperative encourages education in their community and provides scholarships that allow the members' children to attend local schools.
In 2008, the Café Femenino Foundation in conjunction with the Femenino women's group, built a much needed library in Pasac, Guatemala. By partnering with Child Aid, books and training for a librarian were added to the project. The aim of the library is to develop a desire to read in school aged children in a village where books were rare and illiteracy was very common. Up until recently, girls rarely attended school. The library program continues to grow as the number of children and adults served yearly increases.
In addition, Imperial Coffee is proud to be donating 10% of the profits of the sale of Café Femenino to the Canadian Breast Cancer Foundation.
Imperial Coffee and Services has joined a worldwide movement to "outsmart waste" through the TerraCycle program, which converts waste material into a wide variety of products and materials. Its "go green" mandate provides customers with aggressive options in the areas of responsibility, sustainability and minimization of waste. Among many initiatives are: bio-degradable packaging, re-cycling brewers and filter packs, and using Greenware cold drink cups. The company's Ottawa office is using 100% green electricity through Bullfrog Power.
You can read more about Imperial Coffee's Corporate Social Responsibility Programs on its website.
About Imperial Coffee and Services Inc.
Imperial Coffee and Services Inc. is a family-owned coffee, vending and water supply company that serves workplaces in Toronto, the GTA, Hamilton, Kichener-Waterloo, London, Ottawa-Gatineau, and most of Ontario. Founded in 1974, it has long been the market leader for office coffee services in Toronto and Southern Ontario. Imperial Coffee and Services Inc. takes great pride in offering outstanding products and customer service and is equally proud that 29 of its 124 employees have been with the company for more than 20 years.