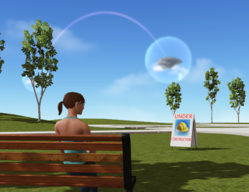 We want to highlight the amazing work that is being done, and making 3D content available for anyone to experience is important to us as an organization. - Cyn Skyberg, Director of Community and Communications
San Jose, CA (PRWEB) May 08, 2013
Virtual world Cloud Party is pleased to announce a very exciting community event in celebration of their first anniversary. In collaboration with Ben Davis, editor of Artinfo Magazine, they are sponsoring an Art in Cloud Party competition with a first prize of $1,000.00 (USD). The theme is "Monumental Work of Public Art". 3D works will be judged on originality of concept, personal voice, how well it takes advantage of the virtual environment, and overall coherence of vision.
"This is a way of not only thanking our community, but also investing in and recognizing the incredible art of creating in the virtual space," says Cyn Skyberg, Director of Community and Communications. "We want to highlight the amazing work that's being done, and making 3D content available for anyone to experience is important to us as an organization."
The guidelines for the competition are wide open. The artwork can be visual, interactive, and collaborative - whatever meets the artist's definition of art and reflects the theme. The intent is to be open-minded but also in harmony with the site's 13+ membership.
The contest starts May 8, 2013, at 12:00 PDT (-GMT-7) and runs until June 12, 2013 at 5:00PM PDT (GMT-7). Winners will be announced June 14th, 2013 at 12:00 PM PDT (GMT-7). In addition to the cash award, an additional award will be given to the community's favorite entry as determined by majority vote. Further details and official rules can be found at the website.
The virtual studios will be open for touring once the competition closes and the judging period is announced, June 12, 2013 at 12:00PM PDT (GMT-7), and then throughout the month as part of the company's first anniversary celebrations.
About Cloud Party
Cloud Party started in June of 2011 in a living room in San Jose, California. It was designed to leverage nascent technology advances in HTML5 and webGL to allow users to create a 3D experience right in their web browser. It launched in beta in June of 2012.
Developed by a team with backgrounds as varied as Cryptic Studios, Crystal Dynamics, Facebook and Linden Lab, Cloud Party's investors include Cory Ondrejka, former CTO and Co-Founder of Second Life and current VP of Mobile for Facebook, and Bruce Rogers, former Co-Founder and CTO of Cryptic Studios.
Cloud Party is built on a platform of HTML5 and WebGL, in a custom engine written directly in JavaScript; WebSockets provide for low-latency, real-time communication to the servers. Cloud Party combines the 3D elements of the world with HTML based UI overlayed on top. The user can both have the 3D experience and simultaneously take advantage of the power of a modern HTML5 web page.