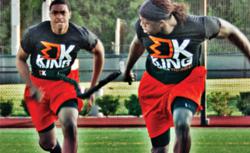 In sports, you may only have one moment of glory, but you have everyday to prepare for it. - Bob King
Dallas, Texas (PRWEB) May 14, 2013
King Sports Training, the Dallas based manufacturer of speed and agility equipment for athletic development, has lowered their prices and is offering free shipping on all purchases over $75 from their website. This comes just in time for the busiest training time of the year, summer time.
See the speed training equipment.
"Shipping can be a big cost for online shoppers and by covering that cost, we are able to provide a better shopping experience and have a greater impact on sports performance," says company founder, Bob King.
During his coaching career, King has earned 3 Super Bowl Championships, 2 Olympic Gold medals, 1 Silver Medal, almost a decade in Major League Soccer and was one of the first strength and conditioning coaches in NBA history with the Dallas Mavericks.
"The summer is the busiest time of the year for athletic development. There are so many camps and training sessions going on, we want to make sure trainers and athletes have the right equipment," says King.
The King Sports Training system is a combination of speed and agility equipment King has used over the years and currently uses when training his athletes. Since the beginning of his coaching career, he would show up carrying his "Speed Bag", a combination of equipment which in the early years was sometimes homemade.
"As a young coach in the late 80's, my first agility ladder was made with paint sticks and my mini hurdles were pvc pipes from the hardware store," says King with a grin. "We have come a long way."
One of the unique characteristics of the King Training System is how much you actually get. There are 10 mini hurdles in the set, which is double what you often see on the market. Along with the mini hurdles, the agility ladder and OverSeed Trainer all come with their own individual case to assure extra convenience.
Once athletes have the equipment, they are not left to fend for themselves. King Sports Training produces high definition videos on their website and YouTube channel to provide drills and workouts that increase speed and agility.
"In sports, you may only get one moment of glory, but you have everyday to prepare for it," says King.
King Sports Training ships all throughout North America with it's headquarters in Dallas, Texas. The free shipping applies to the United States only.