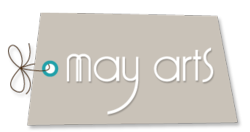 The unique partnership was inspired by May Arts dedication to innovative and creative ribbon design for multiple industries.
Philadelphia, PA (PRWEB) May 06, 2013
Ribbon supplier May Arts is in the classroom working with students at Moore College of Art and Design in Philadelphia. The Fashion Design majors in Professor Linda Wisner's class will do research and produce color and fashion forecasting reports. They will also have the opportunity to submit ribbon designs along with illustrations on how their designs can be used in apparel and accessories.
The unique partnership was inspired by May Arts dedication to innovative and creative ribbon design for multiple industries. New May Arts ribbons are released year round in designs and colors to complement apparel, craft products, and a variety of decorative and packaging uses. The program will serve to promote ribbons as a versatile fashion accessory, and also to ignite the students' entrepreneurial drive for the creative arts, a win for both May Arts and Moore College.
Professor Janice Lewis, Chair of Fashion Design at Moore, says, "I was really intrigued when May Arts contacted us. I had never fully imagined the number of uses of ribbon in fashion, and was excited to hear how many designers are clients of May Arts. When we heard the need for someone to gather trend and color information for ribbon, it was a natural project for design students to research. Of course we added the element of design, both in ribbons and in fashion."
"Students in creative majors don't always know about all of the opportunities available to them for pursuing a career in creative fields," says John Aemisegger, President of May Arts. "This project in particular, and our partnership with Moore overall, will expand their understanding of the creative side of the quality ribbon product we provide to businesses and consumers, and how they might find their niche when they graduate."
About May Arts
May Arts is a leading supplier of high quality ribbon designs, serving a wide variety of customers from large retail outlets to home-based business in the craft and scrapbooking, gift, stationery, fashion, quilting, fancy food, floral, interior design and jewelry industries. Since its founding, May Arts has provided a superior selection of ribbon, including sheer, satin, grosgrain and silk in a variety of patterns and prints. May Arts has become a leader in the marketplace due to its commitment to design, readily available to ship inventory, and knowledgeable customer service representatives. For more information visit http://www.mayarts.com.