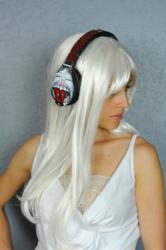 Velodyne is dedicated to the support of the arts, and we look to offer our consumers an authentic creative experience.
Morgan Hill, CA (PRWEB) May 06, 2013
Velodyne Acoustics is proud to announce its partnership with PULSE New York, a contemporary art fair at the Metropolitan Pavilion May 9-12. The unique and dynamic art fair will feature over 60 national, international, and leading contemporary art galleries in its eighth annual show.
Velodyne is proud to participate in PULSE with an exhibition of one-of-a-kind painted, collaged, and sculptural headphone skins. The artwork is made with a variety of materials from marker pens, mounted circuit boards, pulsating colorful lighting, and traditional acrylic and oil painting. Velodyne recently released headphones which can be outfitted with customized skins for a one-of-a-kind artistic, highly personalized look.
Velodyne's uniquely designed vFree wireless Bluetooth and vLeve high performance headphones are the base models for carefully engineered silicon skins. Generic black and white skins are the canvases for customization and self- expression.
Velodyne President, Marta Thoma Hall, was inspired to design customizable skins that can be painted or drawn upon. Velodyne's interchangeable skins double as an accessory and a canvas for artistic creativity.
Velodyne is proud to be collaborating with artists Ali Green, David Peterson, and Michael Scoggins who will also be exhibiting on the second floor of the Pavilion at PULSE 2013. Velodyne brings from its collection skins by the artists Lucas Tracaneros, Francesco Orazzini, along with sculptural headphone designs by Marta Thoma Hall. The many different art skins will be on display and worn by models at the art fair.
Velodyne will host an experiential listening station, giving guests the opportunity to listen to their favorite music while they feast their eyes on exciting headphone art.
"Velodyne is dedicated to the support of the arts, and we look to offer our consumers an authentic creative experience," says Hall. "We are thrilled to integrate the experience of art and music lovers simultaneously."
As an interactive PULSE parting gift, Velodyne will give away free blank headphone skins to artistic guests to take home and design themselves, using anything from markers, collage materials, to paint to customize their skins. Skin designers are then invited to send their skins to Velodyne headquarters in Silicon Valley to win a free headphone. There are twenty winning categories including "Most Interesting," "Most Colorful," "Best Composition," "Most Surreal," and "Most Humorous."
ABOUT VELODYNE ACOUSTICS:
Velodyne Acoustics, Inc., founded in 1983, is universally recognized as the leading manufacturer of high-performance, low distortion powered subwoofers at all price levels. Headquartered in Silicon Valley, California, the company's technically innovative audio products are available through a select group of authorized dealers, custom installers, and distributors worldwide. For more information visit http://www.velodyne.com.