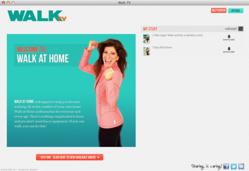 "We love our walk fans", said Sansone. "We knew that when we decided to deliver our video content via the internet, we had to find a company that cared every bit as much about the digital customer experience as we do about the customer."
Los Angeles, CA (PRWEB) May 08, 2013
Leaping Brain Labs is delighted to be chosen by Leslie Sansone, nationally recognized fitness expert and creator of the Walk at Home program, for digital distribution of Walk at Home video content.
Sansone has devoted the last 25 years to creating video programs to promote healthy lifestyles, to ward off illness associated with sedentary lifestyles, and to improve public health one stride at a time. She has 70 million walk fans, and has grown her fitness walking program into the biggest in the world, grossing over $250 million.
"We love our walk fans", said Sansone. "We knew that when we decided to deliver our video content via the internet, we had to find a company that cared every bit as much about the digital customer experience as we do about the customer."
Leaping Brain Labs has created a complete digital ecosystem for the distribution of video products, designed to replace the aging infrastructure of physical DVD and Blu Ray distribution. So far, the platform has delivered over 1.4 million products for dozens of top tier video publishers, delivering an excellent video viewing experience to an industry-leading 99%+ of connected consumers and organizations.
"We are deeply honored to be chosen for Walk at Home's digital media platform." said Josh Mellicker, Leaping Brain CEO. "Leslie is not only a great leader in helping people get and stay fit, and has saved countless lives in the process, she is a huge inspiration as a person as well. With her energy, uplifting spirit, and genuine caring for others, she is a shining light that brings hope and optimism into every corner of the globe."
"And we're proud to mention that our media platform can deliver her videos to every corner of the globe, even areas with slow, intermittent internet connections that could never play a video stream or complete a normal download," said Mellicker.
The Leaping Brain media platform is a unique hybrid, allowing both secure download and streaming access to purchased content for optimized playback on a range of devices, from Windows (MSFT) or Apple (AAPL) computers through a branded software media launchpad and player, to local and streaming access on mobile iOS devices like the iPad™, iPhone™ and iPod Touch™, and complimentary streaming access through thousands of devices, such as Android based tablets like the Kindle Fire™ from Amazon (AMZN), the Nexus 10 from Google (GOOG), or smart TVs from a variety of manufacturers.
"We understand that a growing percentage of people would prefer instant delivery when they order videos from us, and instant, convenient access to our video content with a few taps on a tablet, or a couple of clicks on a laptop without bothering with discs" said Sansone. "We trust Leaping Brain to provide our digital customers with the best possible digital media experience, and we're very happy with the results." said Sansone.
"We're looking forward to a long and healthy working relationship with Leslie and Walk at Home," said Mellicker.