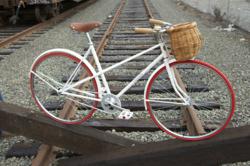 Spring is in the air at PlanetShoes and we are thrilled to partner with Tsubo on this terrific giveaway. -Phil Meynand, President of PlanetShoes
Waltham, MA (PRWEB) May 07, 2013
PlanetShoes and Tsubo are celebrating the arrival of spring with a bike giveaway. Through April 29th, contestants can enter to win a men's or women's custom-made Heritage bicycles through PlanetShoes' facebook page or by purchasing a Tsubo product from PlanetShoes.
About PlanetShoes.com
PlanetShoes.com is an innovative lifestyle retailer committed to helping people live healthier, more eco-friendly lives. The first in the industry to offer a CarbonFree Plus shipping alternative, PlanetShoes.com specializes in products that blend function, style, comfort and value with eco-ethics. The company proudly offers a wide selection of shoes, bags, and other accessories from more than 180 brands. For more information, visit http://www.planetshoes.com.
About Tsubo
Tsubo is a company founded by designers and craftsmen that believe good design enhances your life and a well designed shoe should compliment your body and natural movement. Tsubo offers best-in-category comfort that is engineered and has an athletic level performance under and around the foot. Created for comfort, designed for style, Tsubo fuses advanced technologies exquisite craftsmanship, and creative exploration, to produce footwear that makes you feel great all day long.