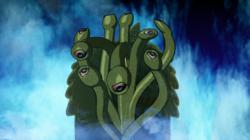 This animated sequence of Silliphant's original script is a great way to contrast vision versus reality for The Creeping Terror.
DENVER (PRWEB) May 07, 2013
The creators of CREEP! - a dark comedy, docu-drama feature film – today announced the addition of an animated sequence (3:05) with illustrious art by world-renowned comic book artist Langdon Foss. While CREEP! chronicles the outlandish story of psychopath movie director Art Nelson in his audacious effort to make a monster movie in 1964 called The Creeping Terror, the newly added animated episode recounts the original script written by Allan Silliphant and his 1959 vision for the film.
"When a screenwriter submits a concept, they think in the best possible terms," said Pete Schuermann, writer and director of CREEP! "This animated sequence of Silliphant's original script is a great way to contrast vision versus reality for The Creeping Terror."
Silliphant's original treatment begins with a rocket ship crashing on the beach of Lake Tahoe, and a 30-foot-long creature that slithers out and slips into the evening lake. In the animated sequence, artist Langdon Foss and CREEP! director Pete Schuermann bring to life the monster described to have tentacles with eye-stalks at the end and the destruction that follows its arrival. An interview with Allan provides vibrant commentary that overlaps with the artwork. He continues his recollection of the script and how a scientist finds the monster still inside the ship, tries to reason with it and gets eaten.
"There's definitely a hidden moral to this story mixed in with a lot of humor," said CREEP!'s executive producer Nancy Theken. "As Allan simply put: 'You don't reason with a sea squirt.'"
The Creeping Terror was considered to be the worst movie ever made, it also became one of the most mind-boggling scams in the history of celluloid and an obscure yet cultish film. Allan's interviewed explained, "it was turned into this thing that didn't make any sense – it was scaled down to the level of absurdity in its execution."
CREEP! is a hybrid of genres from a narrative motion picture and the added realism of documentary content to an animated episode, all presenting intriguing and telling historic details of "one of the best Hollywood stories that's never been told," as described by Harry Medved, co-author of "The Golden Turkey Award." The movie explores Hollywood after the Golden Age of Cinema when America was deep into the Space Race and "drive-in movies" had hit their peak in popularity. A time when production value was often a non-concern and the allure of Hollywood success was undeniable, especially to Art Nelson. CREEP! will be seen as one of the landmark films about the business of show business.
Set for completion on July 1, 2013, CREEP! is filmed almost entirely in Colorado by a regional cast, crew and extras. Langdon Foss, the artist known for his art in Anthony Bourdain's "Get Jiro," also hails from Colorado Springs, Colo.
For more information on CREEP!, view the recently released full-length preview (7:34), or visit http://www.creepfilm.com.
CREEP! Synopsis
At first watch most viewers find many of the sequences in The Creeping Terror so unbelievably awful and ineptly executed that the movie transcends the sci-fi and horror genres and delves into the realm of comedy. But the story behind the film contains all of the elements of classic movie making that director Art Nelson would have killed to have in The Creeping Terror. Highly comic yet darkly disturbing tales of sex, drugs, rape, money scams, heartbreak, bank robberies, Nazism, missing persons, suicide, false identities, and ties to the Manson murders make CREEP! a mesmerizing hit. Art Nelson, aka Vic Savage, was a con-artist looking to make a buck. Moviemaking was just one of his weapons of choice. But the methods to Art's madness in creating The Creeping Terror make Ed Wood's story seem trivial in comparison. Unlike Ed Wood however, CREEP! is told by the actual people who for better or worse helped bring The Creeping Terror to life.
About Langdon Foss
Most recently noted for his art in Anthony Bourdain's "Get Jiro," Langdon Foss' work has also featured in comics including DC Comics, Heavy Metal, Penny-Farthing Press and Antarctic Press, publishing companies like Cricket's Cicada Magazine and he is a regular contributor to role playing games including White Wolf Games and Wizards of the Coast. Foss' artwork is often times found hypnotic with line-work and detail. However, subtle and relevant characterization, unique technical and architectural design, and a sense of inhabitable space are all qualities that illuminate and animate whichever project passes beneath his pencil.
# # #