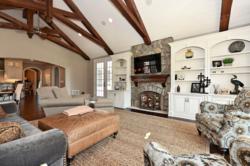 We love that the homeowners are so happy with their old/new home.
Charlotte, NC (PRWEB) May 08, 2013
Shea Custom (http://www.sheacustom.com) is proud to be the recipient of the Gold Excellence in Remodeling award for a Whole House Renovation totaling over $400,000. This award was given by the Home Builders Association of Charlotte during their Awards Dinner on April 19, 2013.
The winning project took 6 months to complete and was quite extensive. The home was a 1960's brick home, with a leaking Mansard-style roof, dark interior and exterior, and varying floor heights. The project included taking the client's architect's designs and combining them with the client's vision for their home, to provide an updated, modern, open floorplan, while staying within the client's budget. The family wanted additional living space, and all additions had to blend in seamlessly with the existing home. An additional goal in the project was to leave the old, towering oak trees near the home unharmed.
Charlie O'Melveny, Director of Operations at Shea Custom, commented, "One of the biggest challenges on this home was on the exterior; we removed the roof and added the third floor. We had to blend three different kinds of brick to get the new exterior to match the existing brick. We also had to hammer out the slab foundation of the sunroom, which was not original to the house. This allowed us to bring it up to the same level as the rest of the home. The end product is gorgeous, and we love that the homeowners are so happy with their old/new home."
By the time this home renovation was complete, Shea Custom added a third floor, a bonus room above the garage, refinished all existing hardwood floors, built a brand new gourmet kitchen, updated three bathrooms, replaced many windows and renovated 95% of the house in general. With the help of an arborist and several preventive measures, the oak trees are still standing, and the homeowners are very happy with their new space. To view before and after photos of this home renovation, please visit h ttp://http://www.sheacustom.com/projects/project-68.asp.
ABOUT SHEA CUSTOM
Shea Custom is owned and operated by Shea Homes of the Carolinas, an independent member of the Shea family of companies, which celebrated its 125th anniversary in 2006. Shea Custom offers home renovations in the greater Charlotte area, in addition to building custom homes on customers' homesites. All Shea Custom estimates are free and require no obligation from the customer. To find out more and to see Before and After photos of recent projects, visit http://www.sheacustom.com. Shea Custom offers affordable custom homes and renovations from a name people know and can trust.