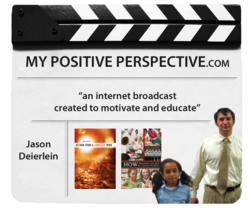 I remember you telling me my tolerance for pain would go up, and it did because it had to
Charleston, SC (PRWEB) May 07, 2013
On May 6, 2013, My Positive Perspective host Jason Deierlein hosted a radio program on partner network Kinetic Hifi. The program featured special guest Nick Collins, a member of the band Fowler's Mustache, who is still recovering after a catastrophic car accident. During the program, Collins noted all the work his fellow band members have put forth in their attempts to raise money to help pay for Collins' medical bills. Collins said, "My fellow band members have played at many venues to help raise money, and so far they have risen over $130,000!
During the program Deierlein and Collins exchanged stories and lessons learned from their recoveries. Deierlein said, "Nothing prepares you for it, the amount of pain, you just do the best with managing it as you can." Fellow car accident survivor, Nick Collins added, "I remember you telling me my tolerance for pain would go up, and it did. My tolerance for pain went up because it had to." Currently, Collins is trying to ease his way off pain medicine. Collins said, "I get these cold sweats all the time as my body tries to ease itself off the pain medicine."
Deierlein concluded the interview by telling Collins about his recent involvement in school symposiums, telling Collins, "Both of us were fortunate to have support from our families. I know that is not the case for everybody, so I feel this is some way to provide some guidance to students that do not receive as much parental support as we had."
My Positive Perspective is a media outlet believing that improvement in our community will be best achieved by focusing on the good things happening in our world today. Having survived a near fatal car accident as a youth, a shift of perception forced one to have a mentality of always concentrating on the brighter sides of things. This was true, and in my book, Return From a Comatose Mind, this belief was put to the test. Appreciation for life was the biggest thing one took away from my brush with death, and it is because of that gives me such a huge desire to be helpful to many. My Positive Perspective is a way of overcoming challenges.