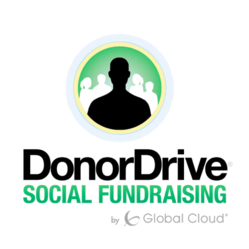 DonorDrive statistics show that an average of 17% of all donations come directly through social channels now.
Cincinnati, OH (PRWEB) May 07, 2013
New fundraising technology, like innovations from DonorDrive Social Fundraising software is quickly changing how supporters give to the causes they support. Research from Dunham and Company shows that more than half of all age groups (including seniors) are now giving online.
Fundraising software integration with social media channels, like Facebook and Twitter, is fueling this growth. DonorDrive statistics show that an average of 17% of all donations come directly through these channels. Organizations that haven't adopted social fundraising as part of their giving programs are missing out on increased donations, a stronger awareness of their mission and the introduction to new supporters through current supporters' extensive social networks.
To help explain these innovations, DonorDrive Social Fundraising software will be conducting an ongoing series of Webinars every Wednesday at 2:00 p.m. Eastern. Upcoming events include:

"Drive More Donations and Grow Your Supporter Base With Events Through DonorDrive" Webinar is May 8th and May 22nd at 2:00 p.m. ET. This is a primer on peer-to-peer fundraising that shows how nonprofits are using DonorDrive for registration, fundraising and social promotion of their events and campaigns.
"Turn Third Party Events into Fundraisers for Your Organization Through DonorDrive" Webinar is May 15th and 29th at 2:00 p.m. Eastern. This introduces nonprofits to third party events, like endurance programs through DonorDrive that can be used to fundraise in major marathons and Personal Campaigns that allow supporters to turn events like birthdays, weddings or anything they can think of into fundraisers.
Both Wednesday Webinars are free and require registration. To sign up, visit the registration page.
DonorDrive® is truly effective software dedicated to event-based social fundraising for medium and large non-profits. Children's Miracle Network Hospitals, Doctors Without Borders, JDRF Canada and Team ASPCA are a few of the causes that use DonorDrive Social Fundraising software for their runs, walks, rides and virtual campaigns to engage constituents and maximize donations. Every year, people are raising millions for great causes through DonorDrive. Learn more at DonorDrive.com.