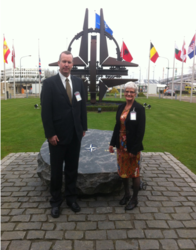 We are honored to have been invited to present at NATO and bring some of our expertise to the problem of waste batteries in Afghanistan.
-Kathy Bruce
Trail, BC (PRWEB) May 09, 2013
On April 17, 2013, Toxco Waste Management Ltd. ("Toxco") made a presentation to the NATO ("North Atlantic Treaty Organization") Transportation of Dangerous Goods Group, in Brussels, Belgium.
After more than a decade-long presence of NATO forces in Afghanistan, a large accumulation of spent lithium batteries has built-up in the country. Lithium batteries are used by the troops on a daily basis and power all of the soldiers needs, from alarms to radios. With the wind down of operations in Afghanistan, NATO countries are seeking ways to handle the large number of spent lithium batteries, which have accumulated over time.
Kathy Bruce, Vice President of Toxco made a presentation to seventeen representatives from the member nations of NATO, outlining Toxco's expertise in the logistics of moving waste batteries around the world, and in the recycling of lithium batteries.
Toxco's lithium battery operations, located in Trail, British Columbia, recycled over 3.7 million pounds of lithium batteries last year. This operation is unique in the world, and the company is recognized as a leader in lithium recycling. Since it began operations in 1992, well over 21 million pounds of lithium batteries have been recycled, from 31 different countries. It is this combination of logistics and recycling ability that attracted the attention of NATO member nations.
Kathy Bruce, VP of Toxco, commented: "We are honored to have been invited to present at NATO and bring some of our expertise to the problem of waste batteries in Afghanistan. We are hopeful through the contacts made that we will be able to move some of these batteries to Trail for treatment and recycling. We are excited about this opportunity to increase our business and the positive effects it could have on the Trail area."