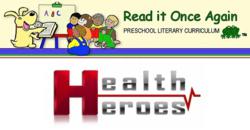 Inman, SC (PRWEB) May 08, 2013
Read It Once Again, known for their preschool literary curriculum, announced today that they will be featured in an upcoming episode of Health Heroes.
In this episode of Health Heroes, viewers will learn about Read It Once Again's literary preschool curriculum units which uniquely use rhyme, rhythm and repetition as the approach to teaching foundational skills to young children, making this curriculum especially effective for children with autism, language delays, or developmental delays, as well as typically developing children.
Rae Schaper, creator of Read It Once Again commented "As a former teacher of early childhood special education, I know the importance of providing a quality, language rich classroom environment. I discovered that combining rhyme, rhythm, and repetition with classic children's literature provides a powerful framework for building a solid language foundation necessary for learning higher academics skill. As the principal author of the Read It Once Again curriculum units, I am passionate about and committed to providing educators of young children, especially educators of children with disabilities, with a curriculum designed to enhance language and cognitive skills, while at the same time establishing the love of books at an early age. The overriding purpose of the curriculum units is to provide an age appropriate curriculum that creates in young children an early love of reading and, as a result, a generation of lifelong readers."
"Read It Once Again provides students with a comprehensive curriculum that promotes and establishes early literacy-based foundation for the development of basic skills," said Michele Nehls, producer for the Health Heroes series. "I'm so proud to be able to educate our audience on the remarkable things that Read It Once Again is doing for our youth."
About Read It Once Again:
Read It Once Again was established to fill a void of curriculum units specifically designed to meet the needs of young children ages 3 to 5 with developmental delays. While early childhood curriculums have been readily available for typically developing young children, the focus and suggested activities of these curriculums are often too difficult and developmentally inappropriate for many children with developmental deficits entering early childhood special education programs. Read It Once Again curriculum units were developed by an early childhood special education teacher to bridge this gap. A recent controlled research study by a major university demonstrated the significant effectiveness of the curriculum units in increasing the academic readiness skills of this group of young children. Currently Read It Once Again curriculum units are in use in all 50 states and Canada.
For more information, visit: http://www.readitonceagain.com or call 877-470-5156.
About Health Heroes:
Health Heroes is a powerful TV series dedicated to defining and exploring today's latest medical advances in all areas of health and wellness. Written with both the industry professional and television audience in mind, Health Heroes educates, entertains and enlightens the lives of our viewers.
For more information visit: http://www.dmgproductions.org or call 866-496-4065.
About DMG Productions:
The DMG production team consists of producers, cameramen and editors that have worked for CNN, TLC, Discovery, and other major news and cable networks. Our staff includes personnel specialized in various fields from agriculture to medicine, independent films to regional news. Our field producers utilize the core concepts from our producers who storyboard our programs, and work closely with experts in the field to develop the educational programs. This powerful force enables us to consistently produce commercial-free, educational programming that both viewers and networks depend on.
Media Contact:
Michele Nehls, Senior Producer
Health Heroes
866-496-4065 x 822
michele(at)dmgproductions(dot)org