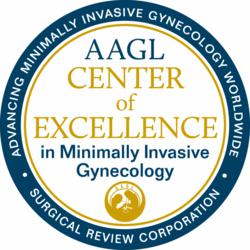 It is our goal to provide the highest-quality care, using the least invasive techniques with the lowest rate of complications
Atlanta, GA (PRWEB) May 08, 2013
Northside Hospital Atlanta campus and vaginal reconstructive surgeons Dr. John R. Miklos, Director of the Atlanta Center for Laparoscopic Urogynecology, and Dr. Robert D. Moore, Associate Director have been awarded the AAGL Center of Excellence designation in Minimally Invasive Gynecology.
Hospitals and surgeons qualify for designation as an AAGL Center of Excellence in Minimally Invasive Gynecology™ (COEMIG) by participating in a stringent evaluation process designed to document that they have a comprehensive program and meet the established program requirements for providing safe gynecologic care with exceptional short- and long-term outcomes. The evaluation not only documents the surgical process (equipment utilized, supplies, training of surgeons and staff and the availability of ancillary services), but also places heavy emphasizes patient's results.
The COEMIG designation recognizes Northside Hospital and Drs. Miklos and Moore for providing the highest quality of care to patients seeking minimally invasive gynecologic surgery and an unparalleled commitment and ability to consistently deliver safe and effective care. By designating the individual surgeon and facility together, patients are able to distinguish providers who have met the requirements for delivering high-quality preoperative care from those who have not.
___________________________________________________________________________
** AAGL Center of Excellence in Minimally Invasive Gynecology™, COEMIG™, and the COEMIG seal are trademarks of the AAGL (http://www.aagl.org). All rights reserved.