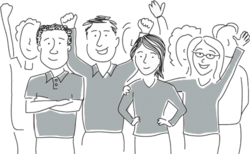 Employee engagement surveys haven't been accessible to small and mid-sized organisations. Focal EE is filling a gap in the market, one that will prove to be a great asset to Development Matters and its clients
Grantham, Lincolnshire (PRWEB UK) 8 May 2013
Development Matters, an organisation development consultancy based in the UK, and Custominsight, a leading provider of online HR assessment and development tools from San Mateo, California, today announced Custominsight opening a field office in the UK. "This partnership is the perfect combination of place and product," remarked Dave Gutzman, CEO and founder of Custominsight.
For some time high performing organisations have recognised the direct link between the level of staff engagement and that of individual performance. Measuring employee engagement has become crucial to creating successful and profitable businesses, and Development Matters was most interested in incorporating Custominsight's flagship Focal EE program to the services they already offer.
Focal EE is the kind of comprehensive employee engagement survey that has been an exclusive service, up until now only available to large organisations in the UK, Ireland and mainland Europe. "Employee engagement surveys haven't been accessible to small and mid-sized organisations. Focal EE is filling a gap in the market, one that will prove to be a great asset to Development Matters and its clients," said Pauline Gordon, Managing Director of Development Matters.
With a combined experience of almost thirty years, both companies are looking forward to the new venture. "Representation in Europe can only be a positive thing for business. A couple years back, when I used to take incoming sales calls, prospects from Europe often asked if we had an office in their country. Now we can tell them that we do and hopefully this will translate into a greater sense of security on their part," said Christine Ipolyi, director of client services for Custominsight.
Both Development Matters and Custominsight share a similar focus: helping individuals and organisations grow and develop in a highly competitive market. This partnership allows Custominsight to be more accessible to its European client base and gives Development Matters better tools to serve its current and future clients.