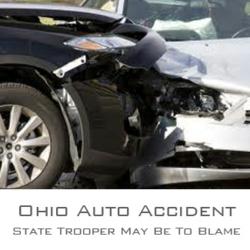 If you or a loved one have been injured in an Ohio auto accident call Wright & Schulte LLC today with all your questions and concerns.
Columbus, OH (PRWEB) May 09, 2013
Wright & Schulte LLC, a full service Ohio personal injury law firm representing the victims of Ohio car accidents, announces they have been retained by two Dayton-area men injured earlier this month in an Ohio auto collision with an Ohio State Trooper. According to a report published April 26 from wdnt.com, the Ohio State Patrol has confirmed that the Trooper involved in the accident was not using his vehicle's overhead lights when he struck the Pontiac Sunfire occupied by the firm's clients.
[wdtn.com/dpp/news/local/greene_county/who-was-at-fault-in-trooper-crash#.UX8N2crprV9]
"From our perspective, going at an excessive speed, not having his overhead lights on, we feel the police officer was at fault for this accident," attorney Michael Wright, a partner with Wright & Schulte LLC, said recently in an interview with the television station.
According to wdnt.com, the two-vehicle crash occurred early in the morning of April 1st on U.S. 35 at Shakertown Road in Beavercreek. The Trooper's cruiser was attempting to catch up to another vehicle when it struck the Pontiac Sunfire as that vehicle was making a left turn onto Shakertown Road. The 23-year-old driver was ejected from the car, and suffered a broken vertebra. The passenger, his 27-year-old brother, was also injured in the collision, and had to have his jaw wired shut.
According to the Ohio State Highway Patrol, some 295 motor vehicle accidents, including 37 that proved fatal, were investigated in Montgomery County in 2012. As of April 29, 248 automobile accidents, including 20 fatal crashes, had been investigated in the County in 2013. Wright & Schulte LLC is proud of the reputation they have earned for aggressively pursuing and holding responsible those whose negligence on the highway all too often results in serious injury to innocent people. All of the firm's Ohio car accident attorneys understand these statistics represent real people and families whose lives have been financially, emotionally and physically devastated, often due to another's negligence.
[statepatrol.ohio.gov/statistics/statspage.asp?Area1=57&B2=Submit]
Wright & Schulte LLC offers free lawsuit evaluations to victims of Ohio car accidents, truck accidents, and other motor vehicle accidents throughout Ohio. Please visit yourohiolegalhelp.com, or call (937)-222-7477 to learn more about your options for legal recourse.
About Wright & Schulte LLC
Wright & Schulte LLC, a personal injury firm, is dedicated to the belief that America's legal system should work for the people. Every day, the attorneys of Wright & Schulte LLC stand up for the rights of people who have been injured by the negligence or misconduct of others. Whether it is a personal injury due to a highway accident, medical malpractice, product liability, nursing home abuse, a construction accident, wrongful death, or any other lawsuits we are always here to answer any questions and help in any way we can. It costs nothing to talk to us, so schedule a free initial consultation. There is no obligation. You can have the advice of a respected legal professional. Contact our office at yourohiolegalhelp.com or by phone at (937)-222-7477 to set up your free appointment.