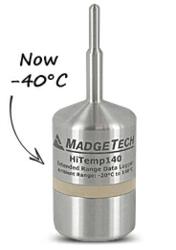 (PRWEB) May 06, 2013
This new super low range capability is of particular interest to users and facilities that require precise monitoring of refrigerators, freezers, plasma freezer validation, food cooling & storage, lyophilization and more.
The HiTemp140 data logger series is offered in eight different models with a variety of probe lengths accommodating almost any application of high and low temperature, monitoring with probes measuring from -200°C to +260°C. The stainless steel design is sleek and submersible. The device records date and time stamped readings, and has a non-volatile solid state memory that will retain data even if the battery becomes discharged.
The HiTemp140 Data Loggers utilize the new MadgeTech Software, version 4. The software is available to download for free from our website http://www.madgetech.com and is a powerful, analytic tool. Data can be viewed in graphical or tabular formats, and summary and statistics views are available for further analysis. The software features export to Excel®, data annotation, digital calibration and more. The HiTemp140 series of data loggers are priced starting at $499.00 USD. For more information, please visit http://www.madgetech.com or call (603) 456-2011.