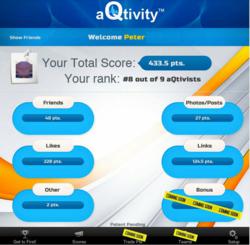 Belmar, NJ (PRWEB) May 08, 2013
Today's society is saturated with social media. People are constantly sharing news, information, and experiences among friends and family over a variety of social media outlets. As a result, social networking websites have become the most popular sites on the internet, attracting hundreds of millions of users every day. Facebook, the most popular among them, boasts more than 750 million users. This incredible number of users is what made Brian Esposito, the creator of a new Facebook app called aQtivity, want to find the most influential Facebook users in the world.
"At the heart of aQtivity," says Esposito, "is the desire to create a unique and playful way to calculate a person's Facebook influence."
The premise behind aQtivity is simple. It is a Facebook app that runs in the background, tracking a user's social activities as they interact with the Facebook community. For every social interaction, a person is awarded points. The more a person shares and interacts, the greater their score. Whether posting a status update, sharing a photo, commenting on a post, adding a friend or liking a page, aQtivity tracks the interaction and scores it accordingly. This gives the user a metric by which they can measure their influence.
If this sounds a bit like a popularity contest, that's because in some ways, it is. Users are invited to compare aQtivity scores with friends to see who the greatest aQtivist is in the group. Scores can even be compared against the entire user database, so people can see how they rank against whole aQtivity community. Esposito hopes to find the top Facebook users based on their level of interaction and influence.
"A friendly competitive spirit is what we hope will drive aQtivity. People are always doing – always going – and what we're offering is a fun way to quantify that. And hey – if you can 'win' against your friends in the process, it's all the better!"
aQtivity users, or aQtivists, can check in on their aQtivity score at any time using their computer, tablet or smart phone. As more people in the Facebook community join the fun and aQtivity's user base grows, people will have a more accurate gauge to see how their personal influence stacks up against a broader audience. In time, Brian Esposito's goal of finding who holds the coveted title of the most influential Facebook user may finally be realized. For more information about aQtivity, visit their Facebook app page or watch their YouTube video.