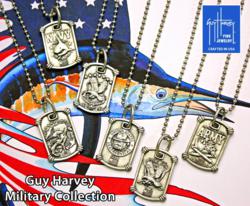 Washington NC (PRWEB) May 08, 2013
Guy Harvey Jewelry is proud to unveil its new Armed Forces Jewelry Collection, a collectible series of custom designed necklaces for men and women representing all Military branches.
The Army, Air Force, Marines, Navy, Coast Guard and the National Guard are all represented in a stylized pewter dog tag design. These unique designs symbolize love and support for all the men and ladies in our military. Retail price is $49 each.
A portion of proceeds from the sales of the Guy Harvey Military Jewelry is donated to charitable organizations dedicated to assisting our heroes and their families.
"Our organization supports a number of worthwhile marine conservation causes but I am especially proud of our new association with some military charities," said Dr. Guy Harvey. "This line of jewelry featuring my artwork is intended to honor America's military soldiers while raising funds for their various needs."
Widely recognized today as the world's finest marine wildlife artist, Guy Harvey combines his unique artistic talents with his background as a marine biologist, diver, photographer and angler, to create marine wildlife art with an unmatched authenticity and visual appeal. Self-taught, Guy's artistic roots can be traced back to his childhood on the Caribbean isle of Jamaica, where he spent many hours fishing and diving with his father along the island's south coast. Guy's obsession with the creatures of the sea inspired early drawings of the many different fish he observed. While attending a boarding school in England at an early age, Guy became entranced by Ernest Hemingway's "The Old Man and the Sea" — and began developing a series of sketches that years later would prove instrumental in helping launch his career as an artist.
The Guy Harvey name and signatures are registered trademarks of Guy Harvey, Inc. The artwork featured on the items represented is the copyright work of Guy Harvey, Inc.
Available through an extensive dealer network throughout the US and Caribbean, or by visiting http://www.guyharveyjewelry.com