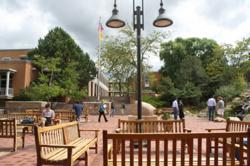 "Summer learning vacations are increasing in popularity for adults looking for a meaningful summer experience," said Gabe Gomez, Communications Director for St. John's College Santa Fe.
Santa Fe, NM (PRWEB) May 08, 2013
St. John's College Santa Fe is pleased to present a round-up of adult summer camps for 2013. Ranging from cooking to photography, to the great books summer seminars offered by the St. John's College Summer Classics program, the round-up offers educational experiences for anyone seeking a unique summer vacation.
"Summer learning vacations are increasing in popularity for adults looking for a meaningful summer experience," said Gabe Gomez, Communications Director for St. John's College Santa Fe. "For those interested in great books in a great city, the St. John's Classics program offers the opportunity for a world-class intellectual journey in historic Santa Fe."
St. John's College round-up of recommended learning vacations are as follows:
St. John's College Summer Classics Program, Santa Fe, New Mexico
Modeled after the St. John's Program, the Summer Classics program hosts students from around the world for seminar classes in classic literature, science, history, philosophy and opera. Seminars are highly participatory discussions led by St. John's faculty in a lively learning environment where everyone's life experience and perspectives contribute to the class. Three week-long sessions are offered for July of 2013, each with a choice of themes and a reading list of great texts. Students can choose morning or afternoon classes (or attend both) and may attend for more than one week of seminars. Seminars are scheduled for: Week I: July 8—12; Week II: July 15—19; and Week III: July 22—26 .
Cost: Tuition is $1,250 per semester, which includes registration, books and other course materials, lunches, and special events. On-campus room and board is $240 per person. Discounts are given for educators.
Find Out More: http://www.sjca.edu/outreach/SF/SC/classics.shtml
The Sierra Club, Multiple Locations
The Sierra Club offers a wide array of eco-adventures like rafting the Colorado River through Grand Canyon National Park, or backpacking through Alaska's grizzly country. The Sierra Club is a mighty voice advocating for the preservation of wilderness areas. Expect extremely well-trained guides who will be able to point out what's special about local flora and fauna.
Cost: Fees vary widely by trip but start at $675 for a five-day excursion hiking the Yosemite High Country Loop. Participants may need to provide some of their own outdoor equipment.
Find out more: http://www.sierraclub.org/outings
Cornell's Adult University, Ithaca, New York
Classes are presented by top members of the Cornell faculty and range from the fun—Cooking intensives, Tennis and Rowing Clinics; The Wines Course, to the serious—History of the Israeli-Palestinian Conflict, The Recent Financial Crisis, and study of the Cosmos. Four successive, one-week sessions are available from early July to early August with classes that meet each day until 3:30 p.m. The school also offers a parallel program of courses for young children to teenagers.
Cost: Courses begin at $1,631 per person for a full week of tuition, accommodations, three meals daily, coffee breaks, hospitality hours, parking, and full access to all normal student facilities.
Find out more: http://www.sce.cornell.edu/cau/on_campus/
Gourmet Retreats, Calistoga, California
Located in the northern Napa Valley, the professional kitchen and gardens of Gourmet Retreats provide students with five hours of afternoon and evening cooking adventures. You'll learn to make stocks and sauces, improve your knife skills, and how to pair wine with meals. Field trips to local foodie hotspots like the Culinary Institute of America and local wineries are included.
Cost: The five-day culinary vacation is $1,150
Find out more: http://www.gourmetretreats.com/
Steve and Doris Colgate Offshore Sailing School, Multiple Locations
Hailed as the number one sailing school in the US, there's no better place to earn your sea legs. The basic "Learn to Sail" course runs between three and five days, and is appropriate for those with no previous sailing experience. The sessions are intensive, covering not only rigging and navigation but also crisis management and overboard rescue. The school offers ten locations in the US and the Caribbean, including New York, Florida, the Bahamas, and the British Virgin Islands.
Cost: Fees start at $795 per person for the basic "Learn to Sail" course.
Find out more: http://www.offshore-sailing.com/
Rocky Mountain School of Photography, Multiple Locations
With classes ranging from basic to advanced photography, the Rocky Mountain School's classrooms are the wide-open spaces of Colorado, Wyoming, Montana and US National Parks. Amateur to advance photographers are able to capture the most photogenic and iconic landscapes in the United States with experienced instructors who challenge participants to view scenes in an extraordinary way and make photographs driven by their own sense of beauty. Courses are offered throughout the summer and fall.
Cost: Fees start at $1,295, with discounts for early registrants.
Find out more: http://www.rmsp.com/workshops/
CONTACT
Gabe Gomez
505 660 1616
ggomez(at)sjcsf(dot)edu
or
Jennifer Hinsley
JLH Media
505 603 8643
Jennifer(at)jlhmedia(dot)com
###
About St. John's College St. John's College is a co-ed four-year liberal arts college with campuses in Annapolis, Md. and Santa Fe, N.M., offers small discussion-based classes and a distinctive curriculum based on the foundational texts of the Western tradition. All students undertake a unified and multidisciplinary program, reading and discussing classic works of philosophy, literature, theology, history, political science, economics, mathematics, astronomy, physics, biology, and music. In this vibrant learning community, faculty members, known as tutors, do not lecture and are not segregated into departments, but instead learn with and guide their students as they read and discuss these foundational texts in small, seminar-style classes. The college also offers graduate-level programs based on these same principles. St. John's has no religious affiliation and is the third oldest college in the country. For more information, please visit http://stjohnscollege.edu/.