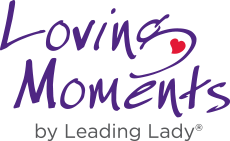 This partnership brings the Loving Moments brand to their loyal consumer base and will introduce our nursing bra line to new moms.
(PRWEB) May 07, 2013
Leading Lady and Pampers have teamed up to bring even more value to the Loving Moments nursing bra product line this spring. Beginning April 1st, consumers will receive a free sample of Pampers Newborn diapers, a sampling of Pamper wipes and nursing tips when they purchase a Loving Moments Wirefree Sport Nursing Bra or Loving Moments Nursing Bra Tank. They will also have a chance to enter a sweepstakes for a complete nursing wardrobe and a year supply of diapers.
Nursing bras are typically purchased in the last trimester of pregnancy when a soon-to-be mom is preparing what she needs to welcome her new baby into the world. "This is a unique opportunity for Pampers to reach its target consumer before the baby is born," said Tim Madigan, from P&G.
Included in the gift pack will be a co-branded information insert. The insert will give new moms the resources they need to access breastfeeding tips, sizing assistance and product information. "Pampers is a trusted and well-known brand and the first choice for new moms for their babies," said Mark Corrado, President and third generation owner of Leading Lady. "This partnership brings the Loving Moments brand to their loyal consumer base and will introduce our nursing bra line to new moms."
Pampers gift with purchase sample packs will be available April 1 – May 31, 2013, when purchasing a Loving Moments by Leading Lady Nursing Bra Tank (retail $15.94) or Wirefree Sport Nursing Bra (retail $13.94) on Walmart.com, while supplies last.
The Loving Moments by Leading Lady brand debuted this month and will be sold only at more than 3,600 Wal-Mart stores nationwide and will also be offered on Walmart.com. Available where new moms shop, Loving Moments makes it easier than ever for expecting and new moms to find quality nursing essentials for an exceptional value.
Consumers have the chance to win a complete essential Nursing Bra wardrobe from Loving Moments and a one year supply of Pampers. No purchase is necessary. Entries may be submitted at http://lovingmomentsbras.com/sweepstakes.html. The contest runs April 1 – June 30th, 2013.
Loving Moments is about more than just intimate apparel, women can visit http://lovingmomentsbras.com for product information, sizing assistance and breastfeeding tips. Fans can join the conversation with new and expecting moms on Facebook at facebook.com/lovingmomentsbras and on Twitter at twitter.com/LovingMomentsBras.
About Leading Lady
Leading Lady is a premier nursing and full figure intimate apparel company dedicated to creating comfortably functional, remarkably affordable, stylish and easy-to-wear bras and camis. Since 1939 Leading Lady has taken pride in providing high quality, good-value products to the intimate apparel niche markets. Leading Lady continuously works to improve our products while adhering to a set of core values and business practices. A family owned and operated company; Leading Lady has been expertly tailoring quality lingerie for mothers-to-be, new moms and full figure women for top brands and retailers across North America for more than 74 years. Additional information about Leading Lady can be found by visiting http://www.leadinglady.com, on Facebook at facebook.com/leadingladybras and on Twitter at twitter.com/LeadingLadyBras.