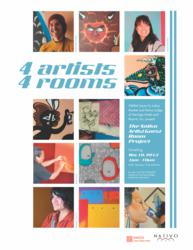 These artist guest rooms, designed by Native American artists, are deeply rooted in cultural traditions but express themselves in surprising ways. They take the hotel guest room experience to another level.
Albuquerque, NM (PRWEB) May 07, 2013
Who: Nativo Lodge of Heritage Hotels and Resorts, Inc., SWAIA (Southwestern Association for Indian Arts) and local Native American artists Heidi K. Brandow, Nani Chacon, Rhett Lynch and Ehren Kee Natay.
What: Nativo Lodge has commissioned four acclaimed Native American contemporary artists (Heidi K. Brandow, Nani Chacon, Rhett Lynch and Ehren Kee Natay) to create a large scale installation work in its guest rooms. The hotel will host an opening celebration event featuring tours of the artists' newly designed guest rooms, entertainment, refreshments and a gallery show and sale of additional works by the four featured artists. The guest rooms will be open for public viewing for one special night only.
When: May 10th, 2013. 7pm- 10pm
Where: The opening celebration will be in the lobby of Nativo Lodge hotel. Guests will be directed to the Artist Rooms throughout the night. Nativo Lodge is located at 6000 Pan American Freeway NE, Albuquerque, NM 87109. Take I-25 to San Mateo exit. Turn East towards San Mateo Blvd. Turn North onto Pan American NE. Nativo Lodge is on the right. Parking is in the front and continues on the sides of the building.
Why: Heritage Hotels and Resorts has a strong mission to support cultural and artistic ventures. For more than a decade, Heritage has sponsored cultural programs and events, non-profits and scholarship programs.
ABOUT HERITAGE HOTELS & RESORTS, INC.: Heritage Hotels and Resorts, Inc. offers a collection of culturally designed hotels in New Mexico. Hotel Albuquerque at Old Town and Nativo Lodge are located in Albuquerque, NM; Hotel St. Francis, Lodge at Santa Fe, and Hotel Chimayo de Santa Fe are located in Santa Fe, NM; Hotel Encanto de Las Cruces is located in Las Cruces, NM. All hotels are locally and minority owned and support cultural preservation and causes.