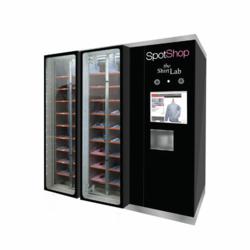 We could open at least four Shirt Labs for the price of opening a traditional retail store.
Mississauga, ON (PRWEB) May 07, 2013
Imagine your product attractively displayed in a stylish retail window, not in a store, but in an automated retail machine. Quattro Clothiers, a high end menswear shop in the heart of the busiest fashion shopping district in Toronto, has decided that this is the future. Quattro wanted to expand their reach and increase their exposure. After researching their options, they saw a demonstration of Signifi's SpotShop dispensing kiosk and "The Quattro Shirt Lab" was born. The Quattro Shirt Lab will feature mid to high-end Italian designer shirts from designers such as Corneliani and Canali, priced from $225-$395. The unique-to-market tray system allows for careful handling of these luxury items and delivers them to clients with signature Quattro packaging, ready-to-go.
Television and local newspapers are expensive and Quattro was making limited progress with online advertising. "The SpotShop provides a great marketing opportunity - huge billboards on 3 sides and a glass display to showcase our products," says Paul Devellis, Partner at Quattro clothiers. "We could open up at least four Shirt Labs for the price of opening a traditional store, save on the costs of leasehold improvements and reduce management time and effort."
A fundamental benefit of the SpotShop is the significant reduction in overhead. You can easily increase distribution, plus save on the cost of on-going staff. In addition, as the kiosk controls inventory, the concern of shrinkage is eliminated. "Our automated retail SpotShops are a fusion of hassle free online shopping, with the instant gratification of real life shopping," says Shamira Jaffer, CEO of Signifi. "They are stylish and fun, and can be placed right in the path of travelers and target customers."
The SpotShop kiosk can be custom designed to showcase any unique brand. The digital video display screen can display custom content to promote products and appeal to different demographics. Quattro also intends to use the machines to drive traffic back to their brick and mortar store by placing units within a three to four mile radius.
"I am confident The Shirt Lab will attract new customers and turn heads when people see high-end shirts being sold out of a machine," Says Paul. "Moreover, the tie-in with facebook is brilliant. Essentially, we will have our own ever-changing living, breathing advertising machine." Signifi is developing marketing campaigns leveraging social media directly through the user interface.
One absolute certainty in the realm of human experience is the inevitability of change and shopping is no exception. For the longest time, luxury brands turned up their noses at the notion, determined that high-end shoppers would never be satisfied by an Internet transaction. No, the well-monied would demand the frills of a boutique, the pampering of the staff and the sheer thrill of wandering aisles, shopping for luxury goods.
Net-a-Porter, a high-end portal that specializes solely in luxury goods arrived and turned that wisdom upside down. To be sure, initially there was considerable hand patting and cajoling, but now the big names are lining up. Brands like Stella McCartney, Yves Saint Laurent and Alexander Wang are clamouring to be considered. People admit to spending far more online than they'd dare to in a shop, because it's convenient, and clicking feels far less real than handing over cold cash.
While that's an interesting shift in the way people secretly think about shopping for luxury goods online, what Signifi Solutions brings retailers is an exciting way to envision what real world shopping will look like in the very near future. Indeed, it has already started happening now.
###
About Quattro Clothiers
Quattro Clothiers is the product of three young entrepreneurs who have been on the fashion scene for over fifteen years. Modeled after the European tradition, Quattro Clothiers is the natural destination for discerning men seeking high-quality, fashionable clothing and accessories in a personalized, intimate setting.
Quattro Clothiers is a name synonymous with men's tailored clothing and mid to high-end fashion in Toronto. Well known as a provider of men's designer suits, our company has evolved significantly over the years, and today we are very proud of our reputation in providing quality, stylish menswear.
We cater to men from all walks of life and provide suits to the man on a budget, to the businessman dressing for success, and right up to the celebrity looking to make an impression at a premiere.
http://www.quattroclothiers.com
About Signifi Solutions Inc.
Signifi develops self-service innovations that transcend traditional consumer expectations, solving today's challenges and inspiring tomorrow's possibilities. Signifi delivers automated retail and touchscreen solutions that are sleek and visually appealing while smart and super-intuitive.
Their automated retail SpotShops have the flexibility to handle a vast range of products. The units can be installed indoor or outdoor, and can dispense a variety of products from foods that require refrigeration or air conditioning to heavy or delicate goods. Modular smart locker systems can also be added to its units to further extend flexibility.
Since the company's inception, Signifi has designed solutions to deliver choice, convenience and simplicity through an engaging experience. The Signifi platform integrates the tactical advantages of marketing with the delivery of products, monitoring, maintenance and real-time management of digital solutions.
Signifi develops self-service innovations that transcend traditional retail and consumer expectations. Their automated retail and touchscreen solutions are visually appealing and have been thoughtfully engineered for reliability and low-cost operations.