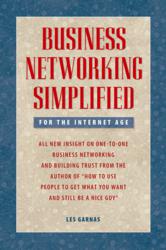 Luck is a matter of preparation meeting opportunity - Oprah Winfrey
(PRWEB) May 07, 2013
Newly minted graduates (college and high school) aren't hard to buy for, as they need everything to get started in today's new world of work.
Here are a few great gift ideas for graduation time:
Give the Net Tips App. The iTunes Store (for iPhones) and Google Play (for Android phones) have gift certificates you can purchase for Net Tips job-getting advice, and working-world tips to help young graduates launch their careers. Practical, motivational tips are written from a common-sense approach by Les Garnas, businessman, business book author, and motivational speaker. Advice and tips are designed to engage and motivate young grads. Net Tips App (one-year tips and advice subscription, $3.95).
Give the book Business Networking Simplified (for the Internet Age). Full of skill-building techniques to succeed at work, this slim book helps young grads negotiate the sometimes confusing world of business and work--to help the first-job holder to understand how he or she can leverage skills and abilities to have fun in their job s and get noticed, appreciated for their contribution to their workplace and advance--when they're ready for more challenge. Available at your favorite bookstore; through Amazon and Barnes & Noble online, in both e-book and soft cover formats, $10-$12.95.
New Graduate Counseling. One-to-one texting/other counsel provided for graduates seeking advice and counsel on job-getting strategies, getting past personnel department resume clutter, differentiating oneself from other job applicants, and having a winning appeal. All conversations with Les Garnas, author, and motivational strategist with a passion for helping young people to succeed. Inquire: coaches(at)concentric(dot)net for details. ($50.00/one-half hour contact).