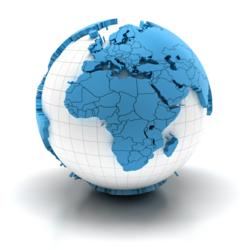 Guadalupe, AZ (PRWEB) May 08, 2013
Absolute Steel recently secured contracts with USAID for the steel building system it manufactures in Guadalupe, Arizona and Terrell, Texas just east of Dallas. The structures will be used as warehouses for securing supplies vital to the efforts of USAID in South Sudan, Africa. Installations will be supervised by USAID staff but will be performed by locals with little to no experience in construction and with a minimum of specialized tools.
That seems like it might not have a smooth outcome—the inexperienced assembling steel buildings but coupled with the fact that steel buildings are a bulky and heavy item to export such a distance, one wonders how Absolute Steel's products can possibly overcome the challenges. It's because their steel building system is unique in this regard; it's a tubular steel building system that fits together much like a Lego kit—components of the building's main frame structure have one end reduced that slips into another while the roof peaks and eaves are pre-formed or shaped into the proper angles so that personnel can be novices at construction and still get everything right. Moreover, condensed and manageable packaging is another feature of the building system which allows the buildings to be delivered without large trucks or equipment. This feature enables the company to penetrate most any theatre of operation with light vehicles and common trailers.
"The attributes of the Absolute Steel building system make it so most anyone, even those with little to no construction experience, can easily assemble an engineered structure," commented company founder and CEO Dean Thomas. "Our products are unique in that way and I'm sure those attributes are what has resulted in all branches of the US Armed Services using our structures. When you can put a building into a location most anywhere on the globe and have most anyone erect it—you have something valuable to offer."
The building system has a minimum of modular components and the company claims that the system is a breakthrough in construction simplicity. Since all components are made of galvanized steel they are durable in all weather and have a low capital outlay compared to conventional construction techniques. "Look," explains Thomas, "we cut our teeth servicing the American public so we had to have it right. The American consumer probably has the highest standards in the world and that's who we still do a lot of business with. Thanks to the Internet I believe we have shipped to every state in the Union including Alaska and Hawaii. From the very beginning we have kept in mind ease of assembly and manageable packaging—we just never knew that would include Afghanistan, Nicaragua, Poland and a host of other countries. Fact is, we have dealers in some of these countries now so who knows where this will end—from Guadalupe to infinity and beyond," laughs Thomas.
About Absolute Steel
Founded in 1999 as Absolute Storage LLC dba Absolute Steel, the company is the leading tubular steel building manufacturer in America. Absolute Steel went online in 2001. The company manufacturers steel buildings, carport systems and other structures for the general public, governmental use, and commercial /corporate customers.